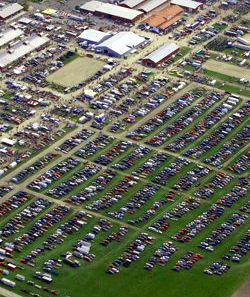 Classic Car Shows & Events 2019
Bramhall Classic Auto presents a list of Classic Car Shows and Events in Ontario for 2019.
To add your classic car or specialty vehicle event for 2019, please enter the event information to our 2019 Event Form. To edit an existing event, please email us.
Please note: although we make every effort to keep this list up to date, we can not guarantee the list is correct. Always confirm the details of the event from the event contact person or web site.
CLASSIC CAR EVENTS 2019
Date
January Events
City
Details
Jan 11 - Jan 12

Live and Online collection of the late Louis Balogh

Springfield

Shackelton Auction Centre, 51570 Lyons Line, 9 a.m. Hosted by: Shackleton Auctions, 519-765-4450, www.shackeltonauctions.com, Sackrider Auctions, 519-661-7955
Jan 13

Woodstock Nostalgia Show and Sale

Woodstock

Auditorium and Mutual/Market Buildings, Woodstock Fairgrounds, 875 Nellis St., 10 a.m. to 3 p.m., larger than ever, now expanded to two buildings, over 220 vendor tables, featuring gas station memorabilia, automotive memorabilia, vintage license plates, advertising signs, small antiques, vintage paper, vintage toys, postcards, coins, bottles, records, glass, china and tins. Coke, brewery, railraod, sports, music, movie, television and other vintage collectibles. Spectator admission: $5. Info: 519-426-8875 (please call before 8 p.m.), email: toyshow@kwic.com
Jan 20

Woodstock Automotive Flea Market

Woodstock

Auditorium and Mutual/Market Buildings, Woodstock Fairgrounds, 875 Nellis St., 9:30 a.m. to 2 p.m., a two building indoor automotive flea market, all indoors, up to 200 vendor tables, no outside vendors, featuring auto parts and accessories, plus automotive and gas station related memorabilia, if you sell parts, we want you as a vendor at this automotive flea market. Spectator admission: $5. Vendors: 8 ft. tables $25 each or 3 tables for $65 - pre-registration required. Vendors info: Ian Ward, P.O. Box 705, Simcoe, ON, N3Y 4T2. Info: 519-426-8875 (please call Monday to Friday from 8 a.m. to 8 p.m.), email: autoswap@kwic.com

Date
February Events
City
Details
Feb 3

Ancaster Nostalgia Show and Sale

Ancaster

Marritt Hall, on the new Ancaster Fairgrounds, 630 Trinity Rd., exit Highway #403 at exit 55 and go 1/2 mile south, 10 a.m. to 3 p.m., up to 160 vendor tables, featuring gas station memorabilia, automotive memorabilia, vintage license lates, advertising signs, small antiques, vintage paper, vintage toys, postcards, records, coins, bottles and tins. Coke, brewery, railroad, sports, music, movie, television and other vintage collectibles. Spectator admission: $5. Info: 519-426-8875 (please call before 8 p.m.), email: toyshow@kwic.com
Feb 10

Auto Flea Market

Paris

Paris Fairgrounds, 139 Silver St., 8 a.m. to ? Vendor set-up 7 a.m. Spectator admission: $5. Vendors: $10, tables provided. Hosted by Brant Street Rods. Info: 519-759-7735
Feb 16

Indoor Automotive Flea Market

Kingsville

Canadian Transportation Museum and Heritage Village, 6155 Arner Townline, 8 a.m. to 1 p.m. Spectator admission: $5 per adult, children 12 and under free. Vendors: $20 per spot to vend. Hosted by: Canadian Transportation Museum and Heritage Village. Info: 519-776-6909, email: events@ctmhv.com
Feb 17

11th Annual Winter Beater Cruise

London

Start point Tommys Motors, 2268 Wharncliffe Rd., S. Lambeth, finish point Steve Plunkett Estate, registration 9:30 a.m. to 11 a.m. Vehicle admission: $10 (per person). Info: Ken Chaplin, 519-691-0398, Chuck West, 519-633-3554, proceeds to Jessies Journey

Date
March Events
City
Details
Mar 8 - Mar 10

Motorama Custom Car and Motorsports Expo

Mississauga

International Centre (Toronto), 6900 Airport Rd., Fri.-Sat., March 8-9 10 a.m. to 9 p.m. Sun. March 10 10 a.m. to 5 p.m. Note: schedule is subject to change, check MotoramaShow.com for updates. Spectator admission: single day tickets: adults (ages 15 to 64) $23, seniors (65+) $20, youth (ages 7 to 14) $15. Three day pass: adult (ages 15 to 64) $60, seniors (ages 65+) $50, youth (7 to 14) $35. Children under 7 free with adult. Free parking. Hosted by: Motorama. Info: 416-962-7223, email: info@motoramashow.com
Mar 23 - Mar 24

2019 London Speed and Custom Show

London

Agriplex, Western Fair District, 845 Florence St., Mar. 23 10 a.m. to 10 p.m., Mar. 24 10 a.m. to 4 p.m. Spectator admission: $12 in advance at www.westernfairdistrict.com, $16 at the door, seniors $12 at the door, kids 12 and under free. Vehicle admission: $25 plus HST. Hosted by: Western Fair District. Info: Rob Lumsden, 519-438-7203 x. 371, email: rlumsden@westernfairdistrict.com

Date
May Events
City
Details
May 4 - May 5

48th Annual AACA Antique Automotive Flea Market

Lindsay

Lindsay Fairgrounds, opens 8 a.m. Spectator admission: $7 per person per day, children under 12 free. Hosted by Antique Automobile Club of America, Ontario Region. Info: Leon Butterworth, 705-760-6564
May 4 - May 5

Stirling 2019 Annual Auto and Antique Flea Market

Stirling

Rec. Centre, Stirling Fairgrounds, 20 kms north of Hwy. 401 on Hwy. 33, open to public 9 a.m. to 5 p.m., free parking. Spectator admission: $5, under 12 free. Vendors: $50 site, limited sites left. Hosted by Stirling Ag Society. Info: Roxanne, 613-395-1583, email: treasurer@stirlingfair.com