Status:
Sold
Year:
1968
Make:
Jaguar
Model:
Series 1.5 E Type Roadster
Price :
$100500
---
Location:
Toronto, ON, Canada
Class:
Classic
Body Style:
Convertible
Engine:
6 cyl.
Transmission:
4-speed
Drivetrain:
RWD
Mileage:
58118
---
Upholstery:
Leather
Doors:
2
Exterior Colour:
White
Interior Colour:
Black
Exterior Condition:
Excellent
Interior Condition:
Very good
Mechanical Condition:
Very good
Chassis Condition:
Very good
Trunk Condition:
Very good
---
Printable Version
FOR SALE: 1968 Jaguar Series 1.5 E Type Roadster
This car has had one long time owner.
Production Information: 1968 was the change over year from the Series 1 to the Series 2 models and very few were made. It was the last year that North American models had 3 SU carburetors as in 1969 they were limited to twin Stromberg carburetors which took 50 bhp off the power of the engine. Many of the external features of the Series 1 were retained.
Exterior Colour: Old English White, originally Blue.
Interior Colour: Original black leather in very good condition.
Restoration: The car body has undergone a complete frame up professional restoration and repaint. This included the replacement of the foot floor wells and sills (rocker panels). Any material that had to be cut out was replaced by metal only and not filler.
Engine: The engine is strong ad performs well. The valves and valve seats were all hardened several years ago to run on unleaded fuel. The engine is not original to the car.
New Components: aluminum radiator, coolant system head tank, alternator, tires, including the spare.
Electrical Upgrades: converted from distributor points to electronic ignition, starter motor replaced with modern gear type starter motor and spark plug wires replaced with very high quality ones. All these upgrades resulted in faster starting and smoother engine performance.
To discuss the purchase of this great classic car for only $100,500.00 U.S., call Maurice Bramhall.
Contact: Maurice Bramhall
Local: 416-822-0098 — Toll Free: 1-800-265-4187
Email: [email protected]
Don't miss out! To stay informed on cars just like this one, sign up for our email list.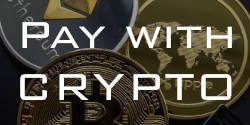 Talk to us about making your purchase securely with cryptocurrency.