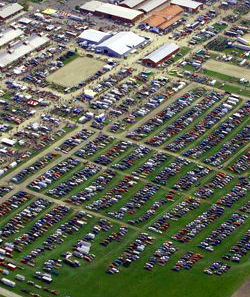 Classic Car Shows & Events 2018
Bramhall Classic Auto presents a list of Classic Car Shows and Events in Ontario for 2018.
To add your classic car or specialty vehicle event for 2018, please enter the event information to our 2018 Event Form. To edit an existing event, please email us.
Please note: although we make every effort to keep this list up to date, we can not guarantee the list is correct. Always confirm the details of the event from the event contact person or web site.
CLASSIC CAR EVENTS 2018
Date
January Events
City
Details
Jan 21

Woodstock Nostalgia Show and Sale

Woodstock

Auditorium and MutualMarket Buildings, Woodstock Fairgrounds, 875 Nellis St., 10 a.m. to 3 p.m., larger than ever, now expanded to two buildings, over 210 vendor tables, featuring gas station memorabilia, automotive memorabilia, vintage license plates, advertising signs, small antiques, vintage paper, vintage toys, postcards, coins, bottles, records, glass, china and tins, Coke, brewery, railroad, sports, music, movie, television and other vintage collectibles. Spectator admission: $5. Info: 519-426-8875 (please call before 8 p.m.), email: toyshow@kwic.com
Jan 28

Woodstock Automotive Flea Market

Woodstock

Auditorium and MutualMarket Buildings, Woodstock Fairgrounds, 875 Nellis St., 9:30 a.m. to 2 p.m., a two building indoor automotive flea market, all indoors with up to 200 vendor tables, no outside vendors, featuring auto parts and accessories, plus automotive and gas station related memorabilia. If you sell parts we want you as a vendor at this automotive flea market. Spectator admission: $5. Vendors: 8 ft. vendor tables $25 each or three tables for $65, pre-registration required. Info: Ian Ward, 519-426-8875 (please call Monday to Friday from 8 a.m. to 8 p.m.), email: autoswap@kwic.com

Date
February Events
City
Details
Feb 4

Ancaster Nostalgia Show and Sale

Ancaster

Marritt Hall, on the new Ancaster Fairgrounds, 630 Trinity Rd. S. (exit Hwy. #403 at exit 55 and go 12 mile south), 10 a.m. to 3 p.m., over 160 vendor tables, featuring gas station memorabilia, automotive memorabilia, vintage license plates, advertising signs, small antiques, vintage paper, vintage toys, postcards, records, coins, bottles and tins, Coke, brewery, railroad, sports, music, movie, television and other vintage collectibles. Spectator admission: $5. Info: 519-426-8875 (please call before 8 p.m.), email: toyshow@kwic.com
Feb 11

Annual Spring Automotive Flea Market

Paris

Paris Fairgrounds, 139 Silver St., 8 a.m. to ?, vendor set-up 7 a.m. Spectator admission: $5. Vendors: $10 table, tables provided. Hosted by Brant Street Rods Inc. Info: 519-759-7735 or 519-770-7297
Feb 17

Indoor Automotive Flea Market

Kingsville (Essex)

Canadian Transportation Museum and Heritage Village, 6155 Arner Townline, City Rd. 23, doors open 8 a.m., diner open till 2 p.m. Spectator admission: $5, under 12 free. Hosted by Canadian Transportation Museum and Heritage Village. Info: 519-776-6909, email: media@ctmhv.com
Feb 18

Winter Beater CruisePoker Run

London

Every day cars, starting at Tommy Motors Lambeth, Wharncliffe Rd. S., going to six different places, finish at Steve Plunkett's, reg. 9 a.m. to 10:30 p.m. Spectator admission: $10 per person, includes all admission. Prizes dirtiest car, junkiest interior, best beater. Proceeds to Canadian Cancer Society and Jesse's Journey. Info: 519-691-0398, Chuck West 519-633-3554
Feb 25

Kitchener Collectibles Expo

Kitchener

Bingemans Conference Centre (Marshall Hall), 425 Bingemans Centre Dr., 10 a.m. to 3 p.m., over 170 vendor tables, featuring top vendors from across Ontario selling automotive and gas station memorabilia, vintage license plates, vintage toys, small antiques, advertising signs, vintage paper, vintage jewellery, old and new diecast toys, vinyl records, CDs, DVDs, music memorabilia, movie and television memorabilia, sports and non-sports cards, comics, coins, action figures and too many other vintage and pop culture collectibles to list them all. Spectator admission: $5. Info: 519-426-8875 (please call before 8 p.m.), email: toyshow@kwic.com

Date
March Events
City
Details
Mar 4

NCRS Annual Swap Meet

Richmond Hill

Wilson Niblett Motors, 10675 Yonge St. Vendors: 7:30 a.m. Public: 9 a.m. Spectator admission: $2. Benefits Sick Kids Hospital. Vendors: $20, 10'x10' space ($25, 10'x20' space). Hosted by Wilson Niblett Motors. Info: Andy, 416-888-5321, email: andy@maplejet.com
Mar 9 - Mar 11

Motorama Custom Car and Motorsports Expo

Mississauga

International Centre, Halls 1, 2 and 4, 6900 Airport Rd., Friday March 9 - 10 a.m. to 9 p.m., Saturday March 10 - 10 a.m. to 9 p.m., Sunday March 11 - 10 a.m. to 5 p.m. Note: Schedule is subject to change, check MotoramaShow.com for updates. Spectator admission: Special Friday only tickets: adults (ages 15 to 64) $18. Single day tickets: adults (ages 15 to 64) $20, senior (65+) $18, youth (ages 7 to 14) $13. Three day pass: adult 3 day pass (ages 15 to 64) save $10 ($50), senior 3 day pass (ages 65+) save $9 ($45), youth 3 day pass (ages 7 to 14) save $9 ($30). Children 6 and under free when accompanied by an adult. Parking free. Info: 416-962-7223, email: info@motoramashow.com
Mar 9 - Mar 10

Two Day Auction for the Late WarrenBridge

Springfield

Shackelton Auction Centre, 51570 Lyons Line, 9 a.m. both days. Hosted by Shackelton Auctions, 519-765-4450, and Sackrider Auctions, 519-661-7955, www.sackriderauctions.com
Mar 11

Woodstock Nostalgia Show and Sale

Woodstock

Auditorium and MutualMarket Buildings, Woodstock Fairgrounds, 875 Nellis St., 10 a.m. to 3 p.m., larger than ever, now expanded to two buildings, over 230 vendor tables, featuring gas station memorabilia, automotive memorabilia, vintage license plates, advertising signs, small antiques, vintage paper, vintage toys, postcards, coins, bottles, records, glass, china and tins, Coke, brewery, railroad, sports, music, movie, television and other vintage collectibles. Spectator admission: $5. Info: 519-426-8875 (please call before 8 p.m.), email: toyshow@kwic.com
Mar 17

Auction Sale for the Estate of the late Carl Finlay

Brampton

41 Marysfield Dr. (off Mayfield Rd.), 10 a.m. Info: Jantzi Auctions Ltd. Info: Wellesley, 519-656-3555
Mar 24 - Mar 25

London Speed and Custom Car and Motorsport Show

London

Metroland Media Agriplex, Western Fair District, 845 Florence St., Saturday 10 a.m. to 8 p.m., Sunday 10 a.m. to 4 p.m. Spectator admission: $12 (online advance), $16 at door. Vehicle admission: $25 plus HST. Hosted by Western Fair. Info: Rob Lumsden, 519-438-7203 ext. 371, email: rlumsden@westernfairdistrict.com
Mar 25

Rodmasters Swap Meet **No Car Show**

Ancaster

Fairgrounds, Junction Hwy. 2 and 53 and 52 from 403 exit #55, south on 52, 8 a.m. to ? Sorry no pets. Spectator admission: $6. Vendors: outdoor $25, indoor $20 with 8 ft. table supplied. Vending auto related items only. Hosted by Rodmasters Car Club. Info: 905-692-5353

Date
April Events
City
Details
Apr 7 - Apr 8

International Motorcycle Spring Show

Mississauga

The International Centre, 6900 Airport Rd., 7 a.m. Spectator admission: $18 for adults, $5 youth 6-12, kids under 6 free. Showcasing classics including Cafe Racers, iconic vintage marques, racing motorcycles, and specials. Large dealer displays have amazing deals on new, non-current and used motorcycles of all makes and models, plus there are stage shows, & the $20,000 custom bike competition. Info: 905-771-0132, email: peter@motorcyclespringshow.com
Apr 8

Kitchener Collectibles Expo

Kitchener

Bingemans Conference Centre (Marshall Hall), 425 Bingemans Centre Dr., 10 a.m. to 3 p.m., over 170 vendor tables, featuring top vendors from across Ontario selling automotive and gas station memorabilia, vintage license plates, vintage toys, small antiques, advertising signs, vintage paper, vintage jewellery, old and new diecast toys, vinyl records, CDs, DVDs, music memorabilia, movie and television memorabilia, sports and non-sports cards, comics, coins, action figures and too many other vintage and pop culture collectibles to list them all. Spectator admission: $5. Info: 519-426-8875 (please call before 8 p.m.), email: toyshow@kwic.com
Apr 8

The Original Woodstock 2018, 25th Annual Automotive Swap Meet

Woodstock

Oxford Auditorium, 875 Nellis St., 8 a.m. to 2 p.m. Spectator admission: $5, under 12 free. Vendor admission: indoor (pre-registration $15) - 8 ft. table, outdoor (no pre-registration $15) - 12' x 20' space. Hosted by Bygone Iron, Ingersoll Rod and Custom and Western Ontario Mopar Owners. Info: Reg 519-458-4692, Carl 519-539-0767
Apr 14

Sock Hop - CANCELLED

Trenton

CANCELLED - Knights of Columbus Hall, 57 Stella Cres., doors oopen 6 p.m., event 6:30 p.m. to 11:30 p.m., Freddy Vette 7 p.m. to 11 p.m. Spectator admission: $50 each or $90 for two. Hosted by Quinte Access. Info (tickets): 613-392-9640
Apr 15

Ancaster Nostalgia Show and Sale

Ancaster

Marritt Hall, on the new Ancaster Fairgrounds, 630 Trinity Rd. S. (exit Hwy. #403 at exit 55 and go 12 mile south), 10 a.m. to 3 p.m., over 160 vendor tables, featuring gas station memorabilia, automotive memorabilia, vintage license plates, advertising signs, small antiques, vintage paper, vintage toys, postcards, records, coins, bottles and tins, Coke, brewery, railroad, sports, music, movie, television and other vintage collectibles. Spectator admission: $5. Info: 519-426-8875 (please call before 8 p.m.), email: toyshow@kwic.com
Apr 15

Richmond Green Indoor Automotive Flea Market

Richmond Hill

Richmond Green Sports Centre, 1300 Elgin Mills Rd., 8:30 a.m. to 2 p.m. Spectator admission: $5. Vendors: $10 per spot. Hosted by Antique Classic Car Club of Canada, Rouge Valley Region. Info: 416-266-1628 or 416-698-4378
Apr 21

Auction Sale for Bill and Leona English

Hastings

1627 Asphodel 8th Line, from Hastings take Victoria St. N., from Norwood take 7W to Asphodel 8th Line, then south. See signs. Time: 10 a.m. Hosted by Kevin Barker Auctions. Info: 705-328-1478, cel 705-878-2847, Jim 705-696-3304, email: fargojim54@gmail.com
Apr 22

HASC 55th Antique Auto Flea Market and Nostalgic Show

Rockton

Rockton Fairgrounds, 812 Old Highway No. 8, gates open at 8 a.m. Spectator admission: $5. Vendors: indoor tables $20 each, 2nd table free of charge. Outdoor vendors: $15 (space 15' x 30'). Vehicle admission: $5, including driver. Hosted by HASC Iroquonic Region. Vendor table info: Gord Kosterewa, 905-627-0277 or 905-975-7509, email: gord.kosterewa@hotmail.com
Apr 22

37th Annual Ancaster British Car Flea Market

Ancaster

Ancaster Fairgrounds, 630 Trinity Rd., 9 a.m. to 2:30 p.m. Spectator admission: $7, under 18 free. Hosted by Austin Healey Club of Southern Ontario and British Sports Car Club of Hamilton. Info: 519-624-0861
Apr 27

Unreserved Clearing Auction for Fred Thompson Collection

Caledonia

20 Abbey Rd., just off Hwy. 54, 3 kms. east of Caledonia, 10 a.m. Hosted by Fulson Auctions. Info: 905-779-3031 or 905-979-2782
Apr 29

16th Annual Auto License Plate, Buy, Sell, Trade Meet

Acton

Acton Arena, 415 Queen St. (Hwy. 7), 8 a.m. to 1 p.m. Spectator admission: $6. Free parking. Vendors table: $5. Hosted by Halton Tag Club. Info: 519-853-3699, email: dsteckley@sympatico.ca
Apr 29

34th Annual Ancaster '18 Swap Meet and Car Show

Ancaster

Rain or shine, Ancaster Fairgrounds, 630 Trinity Rd. S., 9 a.m. to 4 p.m. Spectator admission: $8, children under 12 free. Vehicle admission: $5 a person, entry at gate one. Hosted by Road Runners Car Club. Info: 289-683-1017

Date
May Events
City
Details
May 5 - May 6

47th Annual AACA Antique Automotive Flea Market

Lindsay

Lindsay Fairgrounds, 7 a.m. to 5 pm. Spectator admission: $7 person, per day, under 12 free. Hosted by Antique Automobile Club of America, Ontario Region. Info: Leon Butterworth, 705-760-6564
May 5 - May 6

Annual Automotive and Antique Flea Market

Stirling

Rec Centre, Stirling Fairgrounds, 20 kms. north of Hwy. 401 on Hwy. 33, open to public 9 a.m. to 5 p.m., free parking. Spectator admission: $5, under 12 free. Insideoutside vendor spots. Hosted by Stirling Agricultural Society. Info (vendors): 613-395-1583 or 613-921-6936, email Roxanne: treasurer@stirlingfair.com
May 6

Jordan Lions Club Swap Meet, rain or shine

Jordan

Jordan Lions Sports Park, 1671 Gregory Rd., 8 a.m. to 2 p.m., food vendors on site. Spectator admission: $5. Vendor admission: $15 per space, includes two people, vendors bring your own table. Hosted by Jordan Lions Club. Info: Glen Corfield, 905-321-2645, email: Toys2many@yahoo.ca
May 9

Caledon All British Classic Antique Car Show

Caledon

Caledon Fairgrounds, 18927 Hurontario St., 9 a.m. to 3 p.m.. Info: 416-717-7057
May 9 - Oct 10

UNIVERSAL CRUISERS CLASSIC CAR SHOW

Brampton

Classic Car Show for SICKKIDS - Bring your Classic/Muscle or Custom Car, Bike or Truck as Prizes will be awarded each week! Starts Wednesday, May 9, 2018 and continuing EACH week until October. Free Event to be held at 8800 The Gore Road (Embassy Grand Convention Centre parking lot) to raise funds for SICKKIDS. VOLUNTARY donations will be taken at point of entry - all proceeds will be donated directly to SICKKIDS Foundation - help us reach our fundraising goal while showing off your wheels! THANK YOU!
May 12

Annual Spring Fling Car Show

Hagersville

Hagersville Secondary School, 70 Parkview Rd., showcasing and celebrating classic vehicles of all vintages, 10 a.m. to 2 p.m. In addition, there will be a craft show, bake sale, our spring HSS greenhouse plant sale. Featured events include DJ Frankie and his new digital ound, a 50/50 draw, spectator and official judging with lots of prizes, refreshments, and BBQ on site, check us out on our facebook page. Sponsored by Heaslip Ford Sales Ltd., Tim's Tires, Hagersville and Doughty and Williamson, Jarvis. Info: Tim Barker, 905-768-3318, email: tim.barker@granderie.ca, craft show: patti.zadanyi@granderie.ca
May 12 - May 13

Cruisefest 2018

Innisfil, Alcona

Innisfil Beach Park, 676 Innisfil Beach Rd., 10 a.m. to 3 p.m. Spectator admission: free, donation to food bank appreciated. Vehicle admission: $5, with monies towards charities. Hosted by Innisfil Beach Cruisers Car Club. Info: Doug Campbell, 705-436-4452, email: dougsclassiccars@yahoo.com
May 13

Mother's Day Brunch and Car Show

Dunsford

26 Community Centre Rd., 9 a.m. to 1 p.m., treat Mom to brunch $10 each and enjoy a morning full of cars! Help the Dunsford Lions help others! Spectator admission: free. Vehicle admission: $5. Hosted by Dunsford Lions. Info: 705-879-7428, email: mike@jancsiks.com
May 16 - Jun 16

Gravenhurst Car Show

Gravenhurst

Sponsored by Canadian Tire Gravenhurst, the show typically draws in excess of 400 cars from across Ontario to Gull Lake Park. In addition to the cars themselves, the show features food and beer vendors, a kidzone and dozens of prizes ready to be given away to car owners and guests. For those who register their vehicles early, there`s also the chance to win $500 towards a set of tires from Wayne`s Tire in Gravenhurst.
May 19

6th Annual Mustang Sally Rally

Sarnia

Lambton Ford or possible new site, 101 Indian Rd. S., 10 a.m. sharp, registration 8 a.m. till 9:45 a.m., $2,500 prize board, all proceeds to Pathways Health Centre for Children. Spectator admission: free.Vehicle admission: $25 to register for poker hand, $25 extra if passenger wants to play. Hosted by Lambton Ford and Pathways Health Centre for Children. Info: Wendall Drysdale, 519-491-2265, Julianne Higdon, 519-381-2644, email: juliannehigdon@gmail.com
May 19 - Oct 7

Street Classics Cruise

Toronto

Street Classics is in its 19th cruise season. Our starting date is May 19, and ends on October 7, 2018. We host up to 300+ cars every sat night from 5 to dusk. We have music, 50/50 draw, food vendors, drivers and ladies prizes. We also host Toronto`s largest one day swap meet which is on Monday September 3, 2018.
May 20

Bethany Show 'n Shine

Bethany

Bethany Park, 1 Wilson St., 8 a.m. to 3 p.m. Spectator admission: $3. Vehicle admission: $10. Hosted by Bethany Athletic Society. Info: 705-277-2661 x. 225, email: contactbethanypark@gmail.com
May 20

The Wayne Pilkey Memorial Car Show

Thamesford

Thamesville Lions South Park, 224 Seldon St., 8 a.m. to 3 p.m. Spectator admission: free. Vehicle admission: $10. Hosted by Thamesford Cali Committee. Info: Derek Collins, 226-268-2786
May 23

Warsaw Cruise Night 1

Warsaw

Classic cars, motorcycles, 50`s-60`s music, BBQ, homebaked pies, prizes. Every Wednesday night throughout the summer. Gates open at 5 at the Warsaw Lion`s Park in downtown Warsaw, just NE of Peterborough. All are welcome.
May 25 - May 26

RetroFest 2018

Chatham

Bradley Centre, Downtown and Tecumseh Park, 237 King St., Friday cruise 6 p.m., Saturday show 10 a.m. to 4 p.m. Spectator admission: free. Vehicle admission: $10, show only. Hosted by Historic Downtown Chatham - BIA. Email: info@downtownchatham.com
May 25

Sobeys Annual Classic Car Show and Shine

Tillsonburg

Sobeys parking lot, 678 Broadway St., 5 p.m. to dusk, 50/50 draw, trophies and prizes, BBQ. Spectator admission: free. Vehicle admission: $10, proceeds to Tillsonburg Shriners Club. Hosted by Sobeys. Info: 519-842-3425, email: ronwmillere@mailcity.com
May 26

Beeton Honeyfest Classic Car and Truck Show

Beeton

Beeton Arena parking lot, 10:30 a.m. to 3 p.m., registration 9 a.m. to 12 noon. Vehicle admission: $5. Hosted by Beeton Honey and Garden Festival. Info: 416-577-1455
May 26

Knight Cruisers 16th Annual Cruise-In and Craft Fair

Espanola

Espanola track & field/complex, 175 Avery Dr. and Hunter St., 9 a.m. to 3 p.m. Spectator admission: free. Vehicle admission: non-perishables. Hosted by Knight Cruisers Car Club. Info: 705-869-4757, email: g_iam@eastlink.ca - facebook: Espanola and 'Area' Knight Cruisers Car Club
May 26

Cruisin' Downtown Car and Bike Show 10

North Bay

Downtown North Bay. Spectator/vehicle admission: free. Hosted by North Bay BIA. Info: register 705-474-7824
May 26 - May 27

Rodders and Racers 49th Annual Swap Meet & Car Show

Rockton

Rockton Fairgrounds, 812 Old Hwy. 8, special recognition for vehicles produced in 1968 and 1933. Fri. vendor gates open after lunch (front gate), Sat. 6:30 a.m. (back gate), off Conc. 5, Sun. 6:30 a.m. (front gate). Indoor/outdoor vending. Spectators 7:30 a.m. Sat. and Sun. Spectator admission: $6 Sat., $3 Sun. Vendors: Fri. $25, Sat. $20, Sun. $10. Hosted by Rodders and Racers. Info: 905-689-8104
May 26 - May 27

Antique and Collector Car Show, Flea Market & Craft Sale

Lombardy

Lombardy Fairgrounds, 4 miles southwest of Smiths Falls, Hwy. 15, 8 a.m. to 4 p.m. Spectator admission: $5. Vehicle admission: free. Hosted by ACCC Rideau Lakes Region. Info: Henry Schur, 613-285-9930 (car show), Frank Willison, 613-267-0062 (flea market)
May 26 - May 27

Antique & Collector Car Show, Flea Market & Craft Sale

Smiths Falls

Lombardy Fairgrounds, 4 miles southwest of Smiths Falls, Hwy. 15, 8 a.m. to 4 p.m. Spectator admission: $5. Vehicle admission: free. Hosted by ACCC Rideau Lakes Region. Info: Henry Schur, 613-285-9930 (car show), Frank Willison, 613-267-0062 (flea market)
May 26

Cruisin` Home Car Show, rain date May 27

St. Jacobs

Home Hardware Head Office, Henry St., 2 p.m. to 5 p.m. Spectator admission: free. Vehicle admission: donation of a new stuffed toy. Hosted by Home Hardware. Info: 519-664-2252, x. 6430
May 27

Trillium Ford Model A Day

Alliston

Trillium Ford Lincoln Ltd., 4589 Industrial Pkwy., 10:30 a.m. to 2 p.m. Spectator admission: free. Vehicle admission: exclusive to Huronia White Wheel Club members. Hosted by Trillium Ford. Info: 705-435-7609, email: wendy.gabrek@trilliumford.com
May 27

Apple Blossom Tyme Festival Classic Car Show

Colborne

Keeler Centre, 80 Division St., 9 a.m. to 3 p.m. Hoselton trophies for Best in Show. Spectator admission: free. Vehicle admission: $5. Info: 613-921-2065, email: clintonbreau@gmail.com
May 27

Spring Automotive Swap Meet

Delaware

Delaware Speedway, 1684 Gideon Dr., vendor set-up 6 a.m. to 8 a.m. Spectator gates open 8 a.m. Spectator admission: $5. Vendors: $20 day. Car corral: $10 (includes driver). Cruise-In on track: $5 (includes driver). Hosted by Delaware Speedway. Info: Russ 619-652-5068, email: russ@delawarespeedway.com or Ken, 519-691-0398
May 27

Highway 11 Cruisers Car Club Show, Shine & Smoke Out

Bradford

Husky Travel Centre, 3479 Hwy. 88 (Hwy. 400 and 88), 11 a.m. to 4 p.m. Spectator admission: donation to event charities Camp Quality and Children's Wish. Vehicle admission: $10 donation. Hosted by Highway 11 Cruisers Car Club. Email: highway11cruisers@gmail.com
May 27

Can-Am Nationals

LaSalle

Gil Maure Park, 1010 Front Rd., 9 a.m. to 4 p.m. Spectator admission: $5. Vehicle admission: $10. Hosted by Windsor Area Street Rod Inc. Info: 519-736-6096, email: hotrod.roy@hotmail.com
May 27

34th Annual Spring Fling

Streetsville

Rain or shine, Performance Mopar Club of Toronto brings the largest all Mopar and related brand gathering in the GTA, Go Station, 6845 Millcreek Dr., exit 401 at Erin Mills Pkwy. south to Millcreek Dr., right (west) to Go Station, 8 a.m. to 5 p.m., vendors 6:30 a.m., award to many classes, goodie bags to first 150. Vendors: $20, 10x20 space. Vehicle admission: $20. Info: Blaine Shaw, 905-821-2965, email: blaine.shaw@rogers.com
May 27

Woodstock Nostalgia Show and Sale

Woodstock

Woodstock Fairgrounds, Auditorium and Mutual/Market Building, 875 Nellis St., 10 a.m. to 3 p.m., larger than ever, now expanded to two buildings, over 220 vendor tables, featuring gas station memorabilia, automotive memorabilia, vintage license plates, advertising signs, small antiques, vintage paper, vintage toys, postcards, coins, bottles, records, glass, china and tins, Coke, brewery, railroad, sports, music, movie, television and other vintage collectibles. Spectator admission: $5. Info: 519-426-8875 (please call before 8 p.m.), email: toyshow@kwic.com
May 29

Online Collector Auction for Bob & Agnes Charlton

Springfield

2nd session, Shackelton Auction Centre, bidding closes at 7 p.m. on May 29. Info: Shackelton Auctions, 519-765-4450 or Gord Sackrider Auctions, 519-661-7955, www.sackriderauctions.com
May 30

Warsaw Cruise Night 2

Warsaw

Classic cars, motorcycles, 50`s-60`s music, BBQ, homebaked pies, prizes. Every Wednesday night throughout the summer. Gates open at 5 at the Warsaw Lion`s Park in downtown Warsaw, just NE of Peterborough. All are welcome.

Date
June Events
City
Details
Jun 1 - Jun 3

Toronto Spring Classic Car Auction

Mississauga

International Centre, 6900 Airport Rd., Friday 12 noon to 8 p.m., Saturday 9 a.m. to 8 p.m., Sunday 9 a.m. to 3 p.m. Spectator admission: adults $20 day pass$30 weekend pass, seniors $18 day pass$25 weekend pass, children 12 and under free. Vehicles: see consignment package at ccpauctions.com. Hosted by CCP Auctions. Info: 416-923-7500 or 519-676-0396, email: info@ccpauctions.com
Jun 1

Orangeville Blues and Jazz Festival Blues Cruise

Orangeville

Broadway Ave., 5 p.m. to 9 p.m. (cars can start entering at 3:30 p.m.). Spectator/vehicle admission: free. Hosted by MacMaster Buick GMC, Orangeville Chrysler, and DQ Grill and Chill. Info: David Murphy, 519-942-6860, email: murphyd_90@live.ca
Jun 1

Car Show - Cruise for Kids

Hamilton

Westmount Secondary School, 39 Montcalm Dr., enter at rear of campus, 10 a.m. to 3 p.m. Spectator admission: adults $4. Vehicle admission: free. Info: Tom Harber, 905-870-5632
Jun 1

Jesse Keeps on Cruisin 40 Years, Belleville Area Celebration

Belleville

66 Gilbert St., anytime. Spectator admission: Nil - just wave. Vehicle admission: just a smile. Hosted by Jesse James with my 58 truck. Info: 613-968-9110, email: jessejamesquinn@hotmail.com
Jun 2 - Jun 3

Fleetwood Country Cruize-In

London

Celebrities attending are TV's welderup garage's Vegas Ratrods Steve Darnell and Barber Dave. Also Gene Windfield as our regular guest. Team Farmall square dancing tractors return again. Celebrating the 50th anniversary of the C-3 Corvette, new vendors welcome, an automotive extravaganza like no other. Info: Steve Plunkett, 519-657-9040
Jun 2

Gananoque Lions 1000 Island Cruise-In

Gananoque

Gananoque Town Hall Park, 30 King St. E., 9 a.m. to 3:30 p.m. Spectator admission: free, but donations to Gananoque Food Bank or Restoration of Susan Push Engine #500 gratefully appreciated. Vehicle admission: $10. Hosted by Gananoque Lions Club. Info: 613-659-3190
Jun 2 - Jun 3

41st Annual Flea Market of Antique Car Parts & Miscellany

Fergus

Centre Wellington Community Sportsplex, 550 Belsyde Ave., east of Shoppers Drug Mart, gate opens 8 a.m., both days, vendors and campers set-up from 3 p.m. Fri. June 1. Spectator admission: $3, 12 and under free. Vehicle admission: free. Hosted by HASC Central Region. Info: 519-994-1838 (evenings best), email: georgescorpio1938@gmail.com
Jun 2

British Sports Car club of London

London

Celebrating the Club's 25th Anniversary, this show will will pay tribute to all British Automobiles. Opens at 9am. Spectators free. Car registration $20.00. Held at Crossings Pub on Hyde Park Rd.
Jun 2 - Jun 3

Douro Dummer Auto Flea Market and Car Show

Douro

Douro Community Centre, 2893 Hwy. 28, 9 a.m. to 4 p.m., the automotive flea market runs the whole weekend, the car show is Sunday only, come cast your vote for `Best Car`. Spectator admission: $5, children under 12 free. Hosted by: Township of Douro Dummer. Info: 705-760-3568, email: baldone@nexicom.net
Jun 3

8th Annual Show and Shine

Belleville

Zwick's Park, Bay Bridge Rd. (Hwy. 62 S), 8 a.m. to 3 p.m., 50s, 60s music, free dash plaques for first 200 registered, lots of door prizes and trophies, photograph of vehicle on arrival, food and refreshments on site, registration closes at noon. Spectator admission: free. Vehicle admission: $10. Hosted by Belleville Lions Club. Info: 613-813-8170, email: rjhanson@cogeco.ca
Jun 3

Show and Shine

Scarborough

Ashtonbee Campus, 75 Ashtonbee Rd. (Warden/Eglinton East), 9 a.m. to 4 p.m., rain or shine. Spectator admission: free. Free parking. Vehicle admission: $10. Vendor spots are free. Hosted by Centennial College. Info: jmifsud@centennialcollege.ca
Jun 3

Unfinished Nationals Car Show and Swap Meet

Paris

Paris Fairgrounds, 8 a.m. to 4 p.m., our guests this year `Hellions Car Club`, also on hand will be Grant Swartz of Vegas Rat Rods. Spectator admission: $5. Vehicle admission: $10 (and passengers). Vendors: inside $20 per table, outside $15 per 10` x 20` spot. Info: 289-244-4007 or 905-639-2006
Jun 6

Warsaw Cruise Night 3

Warsaw

Classic cars, motorcycles, 50`s-60`s music, BBQ, homebaked pies, prizes. Every Wednesday night throughout the summer. Gates open at 5 at the Warsaw Lion`s Park in downtown Warsaw, just NE of Peterborough. All are welcome.
Jun 7 - Jun 10

Spring Barrie Automotive Flea Market

Barrie

Burls Creek Event Grounds, Hwy. 11 on 8th Line, check website for times and admissions. Hosted by Barrie Automotive Flea Market. Info: 705-737-2236
Jun 8 - Jun 10

Ontario Camaro Nationals

Oshawa

General Motors HQ, Track day Friday - Canadian Motorsport Park, show and shine Saturday, Sunday - General Motors HQ, Track day Friday 8 a.m. to 5 p.m., show and shine Saturday 8 a.m. to 4 p.m., Sunday 8 a.m. to 3 p.m. Vehicle admission: see website. Hosted by Ontario Camaro Club
Jun 9

All British Classic and Antique Car Show

Caledon

Caledon Fairgrounds, 18927 Hurontario St. (Hwy. 10), 10 a.m. to 3 p.m., registration opens at 9 a.m., awards 2 p.m., judges choice and people's choice for first, second and third and runner-up, door prizes, plus raffle for great prize food and entertainment all day on fairgrounds, the car show event is a fundraiser for Community Living Dufferin in Orangeville, ON. Spectator admission: free entry to fairgrounds for show car, driver and one passenger. Vehicle admission: $10. Hosted by Headwaters British Car Club. Info: 416-717-7057, email: happytraveller@icloud.com
Jun 9

Grilled Cheese Challenge

Etobicoke

2925 Lake Shore Blvd., 11 a.m. to 6 p.m. Spectator admission: free. Vehicle admission: free. Thirty premium spots available on Lake Shore, must be pre-registered. Hosted by Lake Shore Village BIA. Info: Bob Cusson, 416-654-5981 or Carol Cusson, carol@lootlady.com
Jun 9

Rambler-Rama

Manchester

Haugen's Chicken and Ribs BBQ Restaurant, SE corner of Highways 7 and 12, 10 a.m. to 3 p.m. Spectator admission: free. Vehicle admission: $10 for AMC, Rambler and predecessor vehicles including Nash, Hudson (and pre-1988 Jeep), including AMC parts vendors for $10, no other makes please. Hosted by Norther Rambler's Car Club of Canada. Info: Steve, 905-939-8050, email: nutimes.steve@gmail.com
Jun 9

23rd Annual Otterville Mill Classic Car Show

Otterville

Registration 8 a.m. to noon, awards 3:30 p.m. Spectator admission: $4. Vehicle admission: $10. Info: Ron 519-879-6508, Brian 519-879-6244, Mark 519-879-6502
Jun 9

Bruce Mines Cruisin' Car Show

Bruce Mines

Waterfront, 10 a.m. Classic cars and trucks, motorcycles, snow machines and tractors. Prizes to be won. This is a great day for the classic car enthusiast, and fun for the whole family. Held on the picturesque waterfront, begins at 10 a.m. Admission free for spectators. Cost for pre-regsitered particpants, pre-register by phone. Info: 705-785-9911 or 705-785-2448, email: edgolec@yahoo.ca or larrylb55@hotmail.com
Jun 9

Hensall Spring Fair

Hensall

Hensall Community Centre, 157 Oxford St., 9 a.m. to 4 p.m., door prizes, first 100 receive dash plaques, cars welcome to join parade at 11 a.m. Spectator admission: free. Vehicle admission: $5. Hosted by Hensall Spring Fair. Info: 519-262-3733, email: hensallspringfair@yahoo.ca
Jun 9

Sizzlin Summer Car Show

Leamington

Lally Southpoint Ford, 414 Rocky Rd., 9 a.m. to 3 p.m., 100% of this year's proceeds will go to Building Bridges, a local charity benefitting struggling youth in our area who are homeless and who are couch-surfing. The car show is open to all cars. Food, trophies, and fun! Info: 519-326-8600, email: steve@southpointford.ca
Jun 9

Weston Gardens 4th Annual Classic Car Show

Toronto

Weston Gardens Retirement Residence, 303 Queens Dr., 1:30 p.m. to 4 p.m., classic car show, join us for a free BBQ, live music, and an ice cream on us. Tell your friends, the more cars the better. Spectator/vehicle admission: free. Please call and register your vehicle. Hosted by Weston Gardens Retirement Residence. Info: 416-241-1113, ask for Stephanie, email: stephanie@westongardens.ca
Jun 9

Ontario Hot Rod Tour Cruise Night

Cambridge

Canadian Tire Pine Bush, 65 Pine Bush Rd., 6 p.m. to 9 p.m. Hosted by Canadian Tire Pine Bush.
Jun 9

Paris Super Pull and Historical Expo

Paris

Paris Fairgrounds, 139 Silver St., 10 a.m. to midnight. Spectator admission: $10 until 3 p.m., $15 after 3. Ages 6-15: $5 all day, under 6 free all day. Vehicle admission: free. Hosted by Paris Agricultural Society. Info: 519-442-2823, email: info@parisfairgrounds.com
Jun 9

Spring Cruise in the Park

Niagara-on-the-Lake

Virgil Sports Park, Creek Rd., 6 p.m. to 11 p.m. Spectator admission: $5. Hosted by Niagara-on-the-Lake Kinsmen and District 3 Virgil Volunteer Firefighters. Info: 905-359-7269
Jun 9

Trucking For Kids

Ilderton

Ilderton Fairgrounds, in support of The Children`s Hosptial at LHSC and Ronald McDonald House in London
Jun 10

Settlers' Day Old Fashioned Country Fair

Bobcaygeon

Kawartha Settlers' Village, 85 Dunn St. We are looking for pre-1935 vehicles only to display at the event, name plaques will be given to the first 40 vehicles upon arrival. Cars, trucks, tractors, all welcome, 10 a.m. to 4 p.m. Spectator/vehicle admission: by donation. Hosted by Kawartha Settlers' Village. Info: 705-738-6163, email: info@settlersvillage.org
Jun 10

Automotive Flea Market and Festival of Cars

Kingsville (Essex)

Canadian Transportation Museum and Heritage Village, 6155 Arner Townline, County Rd. 23, registration starts 8 a.m. to 1 p.m., vendor gates open 6 a.m. Spectator admission: $5, under 12 free. Vehicle admission: $10. Vendors: free. Hosted by Canadian Transporation Museum and Heritage Village. Info: 519-776-6909, email: media@ctmhv.com
Jun 10

Graffiti Car Show 2018

Kitchener-Waterloo

Waterloo Rod and Gun Club, Bo-Dee Lane, 8 a.m. to 3 p.m., registration closes at 12 noon, cash prize draws to registered vehicles, top ten awards, peoples, ladies and presidents choice awards, door prizes for registrants, silent auction. Spectator admission: monetary donation to the Children's Wish Foundation. Vehicle admission: $10 donation to the Children's Wish Foundation. Hosted by The Highwaymen Car Club. Info: 519-742-1141, register online at www.highwaymen.ca, Graffiti Car Show inquiries: kent3687@gmail.com
Jun 10

Classics In The Country

Baltimore

283 County Rd. 22, 9 a.m. to 3 p.m. Spectator admission: $10 car load. Vehicle admission: $10. Hosted by Paul and Kerri Hicks. Info: 905-431-5940, email: krownwhitby@live.ca, facebook: Krown Whitby
Jun 10

8th Annual Classic Ford and Mercury Truck Show & Shine

Grand Bend

The Pinery Antique Flea Market, 10163 Lakeshore Rd. (Hwy. 21), 10 a.m. to 3 p.m. Vehicle admission: $10. Sponsored by Classic Ford Truck Club - Ontario West Coast Chapter. Info: 519-243-3018, email: ontariowestcoast@yahoo.ca
Jun 10

McGregor Music Festival Car Show

McGregor

The McGregor music festival car show will be held June 10 2018 10:00am till 5:00 pm. There will be live bands all day long. Cars will be parked on a grass field. Adult beverages will be sold as well as food. This car show is held as a part of the McGregor Music Festival. All proceeds go to support the Windsor Cancer Foundation Center. $5.00 admission fee to the car show and festival. There will be many types of draws and raffles.
Jun 10

6th Annual Car Show

Paris

103 Dundas St. E., 10 a.m. to 3 p.m. Spectator admission: donation to Food Bank. Vehicle admission: car and passengers $10. Hosted by Mike Yarek Dodge. Info: Craig, 519-740-8058, or Jim, 519-465-2542
Jun 10

Rosy Rhubarb Annual Antique Car Show

Shedden

Southwold Keystone Complex, 35921 Talbot Line, 10 a.m. to 3 p.m. Vehicle admission: $10. Hosted by Rosy Rhubarb. Info: 519-764-2219
Jun 10

TMMC West Plant Car Show

Woodstock

Event held at the Woodstock plant, 1717 Dundas Street, Woodstock, Ontario Car Show, all makes and models welcome. Cost is $5 per car, spectators are free. Dash plaques to first 100 cars, prize for best in show and most personalized. Raffle prizes, BBQ, 50/50 draw. All proceeds go to the Oxford United Way.
Jun 10

Main Street Car Show, rain date June 24

Newmarket

Main St., 11 a.m. to 4 p.m. Spectator admission: free. Vehicle admission: $10. Hosted by Newmarket Car Club and Downtown BIA. Info: 905-717-3254 or 289-231-5233
Jun 10

Rods and Relics Annual Car Show

Stevensville

Fort Erie Conservation Club, 2555 Ott Rd., 8 a.m. to 2 p.m. Spectator admission: free. Vehicle admission: $10. Hosted by Rods and Relics. Info: Frank Raso, 905-382-4685
Jun 10

TMMC West Plant Show and Shine

Woodstock

Toyota Motor Manufacturing Canada, 1717 Dundas St., 11 a.m. to 2 p.m. Spectator admission: free. Vehicle admission: $5. Hosted by Toyota Motor Manufacturing Canada. Info: 519-653-1111 x. 8513, email: cathy.ward@toyota.com
Jun 13

Warsaw Cruise Night 4

Warsaw

Classic cars, motorcycles, 50`s-60`s music, BBQ, homebaked pies, prizes. Every Wednesday night throughout the summer. Gates open at 5 at the Warsaw Lion`s Park in downtown Warsaw, just NE of Peterborough. All are welcome.
Jun 15

41st Hometown Turkeyfest Show and Shine

Strathroy

Downtown Metcalf and Albert, 4 p.m. to 9 p.m., show cars enter via Frank St. starting at 2 p.m. Vehicle admission: $10. Hosted by Strathroy-Caradoc Cruisers Car Club. Info: sc-cruisers.secretary@gmail.com
Jun 15

22nd Annual Show and Shine

Moorefield

Main St., registration 6 p.m. till 8 p.m., showing unitl 11 p.m., rain or shine. Spectator admission: free. Vehicle admission: $10, parking starts at 6 p.m. Hosted by Mapleton Custom Rodders. Info: Toad, 519-638-2269, or Glenn, 226-792-8537
Jun 16

Vineland Classic Car Show

Vineland

3970 Glendale Ave., 9 a.m. to 1 p.m., fundraising event to support Upper Deck Youth Centre, BBQ and prizes. Spectator admission: free. Vehicle admission: $10.
Jun 16

8th Annual Delhi BIA Mustang Roundup Show and Shine

Delhi

All Mustangs are welcome, old and new and in between, Church St. (same location last 7 shows), 10 a.m. to 2:30 p.m., car plaques for the first 100 cars, prizes to be drawn throughout the day and entertainment supplied as well as food vendors, come early, breakfast for drivers at 8:30 p.m. held in the United Church basement, 105 Church St. W., more info on the show as it develops, check FB page. Vehicle admission: $10. Info: Randy Goudeseune, 519-428-7873
Jun 16

Think Pink Car, Truck and Bike Show

Waterdown

Olympia Village RV Campground, 1161 4th Conc. W., 11 a.m. to 4 p.m., participant entry approx. 10 a.m., fun filled day with awards, raffles, penny sale, vendors, kid activities, music and more. Spectator admission: $10. Vehicle admission: participant and one passenger are free. Hosted by Olympia Village Camping for a Cure. Info: 905-388-5253, email: thinkpinkcarshow@hotmail.com
Jun 16

25th Annual Gravenhurst Car Show

Gravenhurst

Gull Lake Rotary Park, 9 a.m. to 3 p.m. Spectator admission: $5, children under 16 free. Vehicle admission: $10 suggested donation. Hosted by The Gravenhurst Chamber of Commerce. Info: 705-687-4432, email: marketing@gravenhurstchamber.com
Jun 16

Zehr Insurance 4th Annual Poker Run

Listowel

Listowel, ON to New Hamburg, ON, 100-130 Argyle Ave. N., 8:30 a.m. registration. Vehicle admission: $20. Hosted by Zehr Insurance Brokers Ltd. Info: rsvp Sean McKechnie, 519-291-5444, email: smckechnie@zehrinsurance.com
Jun 16

6th Annual Fords In The Park

Milton

Country Heritage Park, 8560 Tremaine Rd., 9 a.m. to 4 p.m. Spectator admission: $10. Vehicle admission: $20 (driver and passengers), all Ford years welcome. Hosted by Henry Ford's Dreams Collectors Club. Info: Henry Hendriks, 519-525-3062, Al Tor, 905-330-8072
Jun 16

14th Annual Car Show

Port Lambton

Brander Park. Spectator admission: free. Vehicle admission: $10 ($5 for additional entries). Hosted by Optimist Club of Sombra. Info: Carla, 226-402-3870, email: caarssen@hotmail.com
Jun 16

Tweed Classic Car Show

Tweed

Classic Car Show and Vendor Village Tweed Memorial Park & Kiwanis Pavilion, 10 am - 3 pm. People's Choice Awards - 1st $50, 2nd $30, 3rd $20. Food Vendors, 50/50 and more Pre-sale of Classic Car T-shirts for $20, send size and quantity to info@tweedchamber.com
Jun 16

Kars & K9s

Enfield

Poodle in a pickup? Corgi in a corvette? Bring your ride along with Rover to Kars & K9's for a fun day including a barbecue, draws and more-all to benefit The Animal Guardian Society (TAGS) of Durham Region.
Jun 16

Point Pelee 100 Vintage Car Show and Shine

Leamington

Point Pelee National Park's Visitor Centre, 1118 Point Pelee Dr., 9 a.m. to 1 p.m. Spectator admission: regular park entry fees apply. Vehicle admission: free. Hosted by Point Pelee National Park. Info: 519-322-2365, email: Pelee.info@pc.gc.ca
Jun 16

10th Anniversary Car Show and Shine

Maryhill

Community Park, 58 St. Charles St. E., 11 a.m. to 4 p.m., food and refreshments on premises and live band, register to win prizes. Spectator/vehicle admission: free. Hosted by Maryhill Knights of Columbus. Info: 519-648-2939
Jun 16

Cars and Canines

Oshawa

The Animal Guardian Society or TAGS, 1070 Conc. Rd. 9, Blackstock, 11 a.m. to 4 p.m., silent auction, 50/50, BBQ. Spectator admission: free. Vehicle admission: $10 donation (vehicle and dog). All proceeds to TAGS and Lions Guide Dogs. Hosted by TAGS and North Oshawa Lions. Info: 905-263-8247, email: tagsinfo@yahoo.ca
Jun 16

Cruise Night for Animal Aide

St.Thomas

Elgin Mall, 417 Wellington St., 4 p.m. to 8 p.m., music, food and prizes, all proceeds to Animal Aide. Vehicle admission: free-will donation. Hosted by St. Thomas Animal Aide. Info: 519-631-9717, email: mauiturtle7@gmail.com
Jun 16

Ajax Home Week Classic Car Show

Ajax

Rain date June 23, open to all cars, trucks, motorcycles, Rat Rods, and vans, 1995 and older. Canadian Tire, 250 Kingston Rd. E., 7 p.m. to 9 p.m. Vehicle admission: one can non-perishable food to be donated for the Salvation Army food bank. Info: 905-428-3873
Jun 16

Caledon Day Car and Bike Show

Caledon East

Caledon East Arena parking lot, 6215 Old Church Rd., 1 p.m. to 5 p.m. Oldies music throughout, awards and draw at 3:45 p.m. Registration includes goodie bag, sponsor draw and prize table ticket ($1,000 in prizes). Caledon Day (2 p.m. to 11 p.m.) features daily entertainment, food vendors and beer garden, stay the night for a spectacular night-time fireworks display and free outdoor evening concert headlining Matthew Good. Vehicle admission: $5 car or bike. Hosted by the Caledon Cruisers Car Club. Info: 647-972-8447 or facebook/email: ilovepasta@rogers.co
Jun 16

Canadian Vintage Motorcycle Group feat. Military Motorcycles

Paris

Paris Fairgrounds, 139 Silver St., 10 a.m. to 5 p.m. Spectator admission: $10. Vehicle admission: free. Hosted by Canadian Vintage Motorcycle Group. Info: 519-846-5174, email: parisrally@cvmg.ca
Jun 16

Fired Up Cycle`s Show & Shine & Automotive Swap Meet/BBQ

Walkerton

966 Old Durham Rd., 9 a.m. to 4 p.m. Bikes, cars, trucks welcome! Spectator/vehicle admission: by donation. Vendors: $10. All funds raised going to The Dock 92.3/Radio for Oncology. Hosted by Fired Up Cycle. Info: 519-507-2220
Jun 16

Mopar Day

St. Thomas

St. Thomas Raceway Park, Mopar only race, show, swap, gates open 8 a.m. Hosted by WOMO - Western Ontario Mopar Owners. Info: 519-762-3561 or 519-764-2335, email: 6bblfury@gmail.com
Jun 16

Rodding for Reading 2018 Classic Car Show & Art Scene

Cambridge

Rain or shine, Beverly St. parking lot, north, 15 Beverly St., cars to access show via Beverly St. from Dundas St., 9 a.m. to 2 p.m. Spectator admission: free. Vehicle admission: free - donations appreciated at the gate. Hosted by The Literacy Group of Waterloo Region. Info: Chris Prosser, executive director, 519-743-6090 x. 226, email: chris@theliteracygroup.com
Jun 16

Sparky`s Show and Shine

St. Charles

Sparky`s Resturant, Hwy. 535, 2 p.m. to 5 p.m., open to cars, trucks, motorcycles and tractors. Hosted by Sparky`s Restaurant
Jun 17

Fire Up The Grille

Oshawa

Calvary Baptist Church, 300 Rossland Rd. E., 10 a.m. to 3 p.m. Spectator/vehicle admission: free. Hosted by Calvary Baptist Church. Info: 905-433-2960
Jun 17

21st Annual Rocklyn Classic Car and Tractor Show

Rocklyn

Rocklyn Arena and Fairgrounds, 156371 7th Line, Euphrasia Twp., Grey Highlands, all classic cars, trucks and tractors welcome. 8 a.m. to 4 p.m., fantastic brunch 10 a.m. to 1 p.m. Adults $10, children 4-12 $5. Music, prizes, food, beer garden, live entertainment, 50-50 draw,silent auction - a great Father's Day treat! Spectator admmission: $5 or $10 family. Vehicle admission: free. Hosted by Rocklyn Community Groups. Info: 519-538-3641, email: henry.reinders@gmail.com
Jun 17

Bracebridge Father's Day Car Show

Bracebridge

Manitoba St., downtown, 9 a.m. to 3 p.m. Spectator admission: free. Vehicle admission: $5. Hosted by Bracebridge BIA. Info: 705-646-5590, email: info@bracebridgecarshow.com
Jun 17

Highway 11 Cruisers Car Club & PartSource Father's Day

Newmarket

PartSource, 16715 Yonge St. #24 (Yonge & Mulock), 11 a.m. to 4 p.m. Spectator admission: free. Vehicle admission: minimum $5 donation to Jumpstart. Hosted by Highway 11 Cruisers Car Club. Email: highway11cruisers@gmail.com
Jun 17

Father's Day Car Show

St. Thomas

Pinafore Park, Elm St., 7 a.m. to 4 p.m. Spectator admission: free-will donation. Vehicle admission: $10 car and driver/family. Hosted by Lions Club of St. Thomas. Info: Wayne Cudney, 519-631-2148 (event chair)
Jun 17

Yorkville Exotic Car Show

Toronto

Bloor-Yorkville, 120 Bloor St. W., 12 noon to 5 p.m. Walk along the red carpet on Bloor Street between Avenue Rd. and Bay St. to get up close with some of the best examples of automotive design from around the world. Once again, we've partnered with Prostate Cancer Canada to raise funds for prostate cancer research. As always, admission is free, but remember to bring a loonie or two to drop off in the donation boxes. Bloor Street will be closed to traffic to host this event.
Jun 17

Annual Father`s Day Car Show, Classics Against Cancer

Georgetown

Cedarvale Park. Register early, limited to 500 cars. Hosted by Classics Against Cancer. Info: info@classicsagainstcancer.com
Jun 17

Breakfast in the Park Car Show

Petersburg

Petersburg Park, 1338 Notre Dame Dr., 8 a.m. to 12 noon, lots of prizes, oldies music. Spectator/vehicle admission: free. Hosted by Rock `n Ronnie and Marlene Weber. Info: 519-634-8902, email: ronmarweber@yahoo.ca
Jun 17

Father`s Day Petrolia Discovery Car Show & Lions Breakfast

Petrolia

Greenwood Park (Petrolia Arena/Lions` Hall), Dufferin and Huggard Streets, breakfast 8 a.m. to 12:30 p.m., car show 10 a.m. to 3 p.m. Spectator admission: adults $10 breakfast, car show $5. Vehicle admission: $10 pre-registered, $15 at gate. Hosted by Petrolia Discovery Foundation and Petrolia Lions Club. Info: Ron Gray, 519-882-0964, email: rongray79@cogeco.ca
Jun 17

Father`s Day Show `n Shine

Trenton

Downtown, 10 a.m. to 4:30 p.m. Vehicle admission: $5. Hosted by Quinte Access Transportation. Info: info@quinteaccess.org
Jun 17

Hanover Streetiques Car Show

Hanover

Hanover Park, 9 a.m. to 3 p.m. Hanover Streetiques have come to the end of the road, we would like to invite you to our 33rd and final Car Show, commemorative dash plaques to first 150 cars and lots of door prizes, come join us for a final good time. We would like to extend a special invite all past members, to come help us say goodbye. Spectator/vehicle admission: free. Hosted by Hanover Streetiques. Info: 519-881-8632
Jun 19

Team Bullock Cruisin` For A Cause

Burlington

Royal Botanical Gardens, south parking lot, 680 Plains Rd W., 4:30 p.m. to 9 p.m., 3rd annual cruise in support of local food banks, non-perishable food items or monetary donations gratefully accepted. Spectator/vehicle admission: free. Hosted by Team Bullock Sales Representatives Remax Real Estate Centre. Info: 905-464-5940
Jun 20

Warsaw Cruise Night 5

Warsaw

Classic cars, motorcycles, 50`s-60`s music, BBQ, homebaked pies, prizes. Every Wednesday night throughout the summer. Gates open at 5 at the Warsaw Lion`s Park in downtown Warsaw, just NE of Peterborough. All are welcome.
Jun 22 - Jun 23

Annual Fun Run

Wasaga Beach

Pre 1993 only, Main Beach, fun begins Friday with a big cash poker run starting at 2:30 p.m. at Stonebridge Plaza, touring beautiful countryside and concluding with free BBQ at 5:30 p.m. (sponsored by Napoleon) on the grounds of Stonebridge. Judging show on Saturday covering all categories plus entertainment (special) and giveaways all day, get there early. Vehicle admission: $10. Hosted by Wasaga Beach Cruisers. Info: Dave, 705-429-7490
Jun 22 - Jun 23

8th Annual Blenheim Classic Auto Show & Cruise Night

Blenheim

Friday cruise night, auto show Saturday, downtown, 9 a.m. to 3 p.m. Spectator admission: free. Vehicle admission: free. Register online: www.blenheimclassicsautoshow.com. Hosted by Blenheim BIA. Info: 519-676-1861 or 519-350-2614
Jun 22 - Jun 23

BK Superauction Retirement Sale

Arthur

8550 Hwy. 6N, Fri. and Sat. 10 a.m. Spectator/vehicle admission: free. Hosted by Don Reinhart Auctions. Info: Bob Krist, 416-931-0174
Jun 23

V!VA Pickering Classic Car Show

Pickering

V!VA Pickering Retirement Home is looking for classic car owners to participate in our Classic Car Show. Prizes for top 3 crowd favourite cars, but no participant goes empty handed. BBQ, Beer Tent, 50/50 Raffle and 50`s tunes. Come make our Community Members` day great by showing them the cars they used to drive and love. Contact Laura at (905) 831-2088 to register your car, or email at laura.moon@vivalife.ca
Jun 23 - Jun 24

45th Annual Car Show and Flea Market

Odessa

Odessa Fairgrounds, County Rd. 6, 8 a.m. to 5 p.m. Spectator admission: $4, children 12 and under free. Vehicle admission: free. Sunday car show registration $10. Hosted by ACCCC-Upper Canada Region. Info: Peter Scott, 613-354-9389, email: 59mark3@gmail.com
Jun 23

Thamesville Threshing Fest

Thamesville

Ferguson Park, Wallace St., 8 a.m. to 3 p.m., first 100 receive dash plaques. Hosted by Thamesville Sertoma. Info: 519-359-1111, email: artkemp65@gmail.com
Jun 23

Bay of Quinte Classic Cruisers 2nd Annual Auto Odyssey

Trenton

Centennial Park, fundraiser for Trenton Memorial Hospital & Fixed For Life, 9 a.m. registration, car show 10 a.m. to 3 p.m. $10 car admission. Rain date: Sunday, June 24. Vendors, food, dash plaques for first 200 cars, 50/50 silent raffle, door prizes. Music by Ian Roy. Info: Christine Mansfield, 613-392-4941, 613-922-4941, or Laurie Palmer, 613-847-2181
Jun 23 - Jun 24

10th Annual Remember When Cruise

Brantford

Cruise between 3 locations: A&W, 30 Lynden Rd., Dairy Queen, 960 Colborne St. E., & Tim Hortons, 164 Colborne St. W., starting at the location of your choise, 4:30 p.m. to ??, bring your cars, bring your gals, cars were made to drive, win one of two classic bar fridges, or several other gifts, anyone staying overnight may join the rolling cruise ending in the Hamilton area on June 24, more info given on Saturday. Hosted by Brantford Piston Pushers. Info: Jim, 519-443-8509 or see us on facebook
Jun 24

Cops N Rodder Hamilton Waterfront Car Show

Hamilton

Bayfront Park. Check website for details
Jun 24

Classic Vehicle and Antique Tractor Show

Alvinston

River St., 12 p.m. to 4 p.m., registration 11 a.m. to 12:30 p.m. Spectator/vehicle admission: free. Hosted by Alvinston and Royal Canadian Legion #249. Info: Alan, 519-847-5428. Municipal Office, 519-898-2173
Jun 24

Ancaster Nostalgia Show and Sale

Ancaster

Marritt Hall, on the new Ancaster Fairgrounds, 630 Trinity Rd. (exit Hwy. #403 at exit 55 and go 1/2 mile south), 10 a.m. to 3 p.m., up to 160 vendor tables, featuring gas station memorabilia, automotive memorabilia, vintage license plates, advertising signs, small antiques, vintage paper, vintage toys, postcards, records, coins, bottles and tins, Coke, brewery, railroad, sports, music, movie, television and other vintage collectibles. Spectator admission: $5. Info: 519-426-8875 (please call before 8 p.m.), email: toyshow@kwic.com
Jun 24

18th Annual Long Point Lions Car Show

Port Rowan

Port Rowan Community Centre, 14 College St., 7 a.m. to 3 p.m. Spectator admission: free. Vehicle admission: $10. Hosted by Long Point Lions Club. Info: Lion Tom, 519-420-8191, or Lion Mike, 519-426-1963, email: tom.mclarty@execulink.com
Jun 24

Cruise In The Park

Sarnia

Canatara Park, Christina St., 8 a.m. to 4 p.m. Spectator admission: donation to our charity. Vehicle admission: $15 Canadian, $15 U.S. Hosted by Sarnia Street Machines. Info: Bob Dickenson, 519-542-5687
Jun 24

Haldimand Museum's Annual Car and Truck Show

Selkirk

Selkirk Community Centre, 17 Main St., 11 a.m. to 3 p.m. Spectator admission: free. Vehicle admission: $5. Hosted by Haldimand Museums. Info: 905-776-3319, email: dstavinga@haldimandcounty.on.ca
Jun 24

26th Annual Car Show

Roseneath

Golden Beach Resort, 7100 County Rd. 18, 9 a.m. to 3 p.m. Spectator admission: $10 per car load or $5 per person. Vehicle admission: $10. Hosted by Golden Beach Resort. Email: info@goldenbeachresort.com
Jun 24

6th Annual Roar By The Shore Classic Car Show

Port Perry

Water St., 8 a.m. to 3 p.m., registration until 11:30 a.m., voting up until 1 p.m. Hosted by Roar By The Shores. Info: 905-242-4909 or 905-985-9755
Jun 24

Annual Classic Car and Truck Show

Whitby

1988 and older, Norse Chev Cadillac, 1530 Dundas St. E., 8 a.m. to 11 a.m., door prizes, 50/50, DJ by John Nice. Spectator/vehicle admission: free. Hosted by John Nice. Info: 905-424-9200, email: johnnice3650@gmail.com
Jun 24

Boulevard of Dreams

Erieau

Mariners Rd. and Ross Lane, 12 noon to 4 p.m., no advance registration or reservations, rain or shine, first 100 - dash plaques. Spectator/vehicle admission: free. Hosted Erieau Partnership Association. Info: 519-401-0021, email: bigrmama@ciaccess.com
Jun 24

St. Lawrence Valley Car Show

Prescott

Fort Wellington, 370 Vankoughnet St., 10 a.m. to 3 p.m. Vehicle admission: $10. Hosted by St. Lawrence Valley Car Show. Info: Todd Ferguson, 613-925-4885, email: splashwelldrilling1987@yahoo.ca
Jun 24

Stratford Kinsmen Car Show

Stratford

Lakeside Drive lower Queens Park, Lakeside Drive to Front to Snake Hill, 9 a.m. to 3 p.m. Vehicle admission: $10 or donation. Info: 519-272-6912, email: exner@execulink.com
Jun 27

Warsaw Cruise Night 6

Warsaw

Classic cars, motorcycles, 50`s-60`s music, BBQ, homebaked pies, prizes. Every Wednesday night throughout the summer. Gates open at 5 at the Warsaw Lion`s Park in downtown Warsaw, just NE of Peterborough. All are welcome.
Jun 30

1st Annual Courtland Lions Classic Car Show

Courtland

Courtland Lions Park, 329 Hwy. 3, 8 a.m. to 2:30 p.m., DJ music, door prizes and trophies at show.Vehicle admission: $10. Hosted by Courtland Lions. Info: George Mikula 519-582-2758, Henry Puhr, 519-842-2818
Jun 30

Antique Tractor, Car Show, Steak BBQ

Arkona

Arkona Fairways Golf Course, 8530 Townsend Line, rain or shine, tractor/car show starts 10 a.m., BBQ 5 p.m. to 7 p.m. Spectator admission: pre-order steak $20 per person. Vehicle admission: free. Hosted by Arkona Masonic Lodge #307. Info: 519-661-9508 to pre-order, or email: rperriam@xcelco.on.ca

Date
July Events
City
Details
Jul 1

Party In The Park

Chesley

Chesley Park, 9 a.m. to 4 p.m. Spectator admission: donation.Vehicle admission: $10. Hosted by Chesley Kinsmen. Info: Marty Fitzpatrick, 226-433-2101, email: martyfitz9717@gmail.com
Jul 1

Summer Dreams Holstein Car Show and Flea Market

Holstein

Jubilee Park, 392057 Grey Rd. 109, 10:30 a.m. to 4 p.m., dash plaques, viewer choice awards, food by Junior Optimists Club. Spectator admission: by donation. Vehicle admission: $5. Hosted by Egremont Optimist Club. Info: 519-334-3101
Jul 1

Trenton Canada Day Show and Shine

Trenton

Open to all years of classic and special interest vehicles, Centennial Park, Bay St., door prizes, dash plaques, many other in-park events. Spectator admission: free. Info: 613-921-1413, email: harmzylstra@gmail.com
Jul 1

West Lorne Optimists 22nd Annual Show and Shine

West Lorne

171 Graham St., 9 a.m. to 3 p.m. Vehicle admission: $10 at gate, pre-registration $8. Info: Kelly Brasil, 519-319-1921
Jul 1

18th Annual Show and Shine

Napanee

Strathcona Paper Centre, Hwy. 41 at 401, next to Walmart, 9 a.m. to 3 p.m. Spectator admission: free. Vehicle admission: $10. Hosted by Napanee Valley Cruisers. Info: 613-354-3245, email: my69dart@bell.net or on facebook: Napanee Valley Cruisers
Jul 1

Canada Day Celebration Car Show

Minden

Water St., 9 a.m. to 3 p.m., lots of door prizes. Spectator/vehicle admission: free. Hosted by Haliburton Highlands Time Travellers. Info: 705-754-3403
Jul 1

Port Hope Canada Day Show `n Shine

Port Hope

Rotary Park, 55 Queen St., 9 a.m. to 3 p.m. Spectator admission: free. Vehicle admission: $5. Hosted by The Municipality of Port Hope. Info: Jeannie Maidens, 905-885-7908, email: jmaidens@porthope.ca
Jul 4

Warsaw Cruise Night 7

Warsaw

Classic cars, motorcycles, 50`s-60`s music, BBQ, homebaked pies, prizes. pEvery Wednesday night throughout the summer. pGates open at 5 at the Warsaw Lion`s Park in downtown Warsaw, just NE of Peterborough. pAll are welcome.
Jul 6 - Jul 7

12th Annual Bayfield Vettefest

Bayfield

Clan Gregor Square, Friday night cruise 7 p.m., Saturday registration 8 a.m. to 4 p.m. Spectator admission: free. Vehicle admission: $20. Hosted by Brian Coombs - Re/Max Reliable Realty Inc. Info: 519-525-9744, email: bcoombs@tcc.on.ca
Jul 7

Vintage Car Show

Caledonia

Winegard Motors Ltd., 140 Argyle St. S., 10 a.m. to 2 p.m., bring your Ford, Lincoln, Mercury, Studebaker, Dodge or DeSoto out for a cruise and enjoy lunch on us, prizes will be awarded to Best of Show. Spectator/vehicle admission: free. Info: 905-765-4444, email: erin@winegardford.com
Jul 7

Burlington Downtown Car Show

Burlington

4th annual car show held on Brant Street in downtown Burlington. Last year over 25,000 attended this one day event, 160 cars registered on site in 2017. All registration entries by invitation only. No arrive and park at this event. The main street of downtown Burlington becomes a pedestrian mall with cars on display and shop owners participating by offering sidewalk sales and event promotions. Every type and year of vehicle considered. Only the best accepted.
Jul 7

Campbellford Chrome On Wheels

Campbellford

Grand Road, 7:00 p.m. Hundreds of motorcycle and classic car enthusiasts gather along the banks of the Trent River to view a variety of personal collections
Jul 7

Dunnville Airport Open House Car Show

Dunnville

Dunnville Airport, 536 Regional Rd. 7, 9 a.m. to 4 p.m. Spectator admission: free. Vehicle admission: $10. Vendors: $10. Hosted by Dunnville Cruisers Car Club. Info: Terry Chambers, 905-899-0013 or Dave Schmidt, 905-701-0184
Jul 7

Wildwood By The Lake Car and Bike Show

Morpeth

12443 Rose Beach Line, gates open 9 a.m., show 10 a.m. to 2 p.m. Spectator admission: free. Vehicle admission: $10. Hosted by Wildwood By The Lake. Registration info: mickey_freak81@icloud.com, facebook - wildwoodbythelakecar.show
Jul 7

North Bay Cruisers Car Show

North Bay

Lee Park, 800 Memorial Dr., 7 p.m. Info: Terry, 705-495-9597, email: tgdagle@gmail.com. The North Bay Cruisers also have Cruise NIghts every Tuesday night starting at 5 p.m. May 15 until September 18, 2018, located at the Discovery North Bay Museum at 100 Ferguson St.
Jul 7

Peninsula Ford Lincoln Mercury Show and Shine

Owen Sound

202392 Hwy. 21, 10 a.m. to 3 p.m. Spectator admission: free. Vehicle admission: $10. Hosted by Peninsula Ford Lincoln, Charity Owen Sound Animal Sheelter. Info: Krista Wismer, 519-376-3252, email: kwismer@peninsulaford.com
Jul 7

St. Mary's Lions Club Classic Car Show and Craft Sale

St. Marys

St. Mary's Lions Park, Milt Dunnell Field, Water St. N., craft show: 8 a.m. to 1 p.m., food booth opens 9 a.m., judging by fan/participant favourite, first 100 cars receive dash plaque. Spectator admission: donation. Hosted by: St. Mary's Lions Club. Info: 519-703-1327 or 519-284-2875
Jul 7

6th Annual Classic Car Show

Windsor

In Support of Make-A-Wish Southwestern Ontario, rain date July 8, Farrow Customs Broker, 2001 Huron Church Rd., 10 a.m. to 3 p.m., pre-registration starts at 8 a.m. Spectator admission: free. Vehicle admission: $10. Hosted by Farrow Custom Broker. Info: 519-791-6642, attention Gil Valley, email: gilvalley@gmail.com
Jul 7

Community Festival Show `n Shine

Woodville

Woodville Ball Park, Union St., gates open 8 a.m., registration closes at noon, major prize draws 2:30 p.m. Spectator/vehicle admission: free. Hosted by Woodville Lions Club. Info: Rick, 705-439-2567, or 705-934-4434 (cel), email: springgrange@personainternet.com
Jul 7 - Jul 8

Dundalk Automotive Swap Meet and Flea Market

Dundalk

Dundalk Community Centre, Sat. 8 a.m. to 6 p.m., car show 1 p.m. to 4 p.m., Sun. 9 a.m. to 4 p.m., car show 11 a.m. to 3 p.m. Spectator admission: $5. Vehicle admission: $5. Hosted by Dundalk Automotive Swap Meet Committee. Info: Les Franks, 519-387-0091 or 519-923-3225
Jul 7

Millbrook Car Show

Millbrook

Downtown, 8 a.m. to 2 p.m. Spectator admission: free. Vehicle admission: $5. Hosted by Millbrook and District Lions and the Millbrook Downtown BIA. Info: Bill, 705-944-5821, email: blhughes@nexicom.net
Jul 7

Norwich Nostalgia Car Show and Shine

Norwich

Emily Stowe Public School grounds, 6 Moore Cres., 8 a.m. to 2 p.m. Note new time. Spectator admission: free. Vehicle admission: $10. Hosted by Norwich BIA and Road Rebels. Info: 519-863-3249, email: stone_ge@oxford.net
Jul 7

Nostalgia Nights

St. Thomas

Downtown, Talbot St., 4 p.m. to 9 p.m. Spectator/vehicle admission: free. Hosted by St. Thomas Downtown Development Board
Jul 7

Reno Damaren Memorial Car Show and Poker Run

Guelph

Rain date July 8, Hitachi Construction Truck Manufacturing, 200 Woodlaw Rd., 12 noon to 4 p.m., door prizes and best of show prizes, 50/50 draw. Spectator/vehicle admission: by donation to charity. Info: 519-362-8172, email: guelphautoparts@hotmail.com
Jul 8

K-W & Area Bug Club presents Bug Out 37

Heidelberg

K-W & Area Bug Club is pleased to announce Bug Out #37, our annual show event which is the longest continuous running VW show in Canada. It features air cooled and water cooled Volkswagens, vintage to modern. We hope you and your family/friends will come out to the show!
Jul 8

Classics and Rods Review Show

Mississauga

Open to all makes, all models, all years and special interest vehicles, rain or shine, The Hershey Centre (The Paramount Centre), 5500 Rose Cherry Way, 8 a.m. to 5 p.m., awards to many classes - goodie bags to first 150 cars, live entertainment by Little Peter and the Elegances, vendors welcome. Vehicle admission: $20. Supporting Erinoaks Kids Centre for Treatment and Developoment. Hosted by Mississauga Classic Car Club. Info: Blaine Shaw, 905-821-2965, email: blaine.shaw@rogers.com
Jul 8

Tottenham Classic Car and Truck Show, 25th Anniversary

Tottenham

Conservation Area, 6787 4th Line, 8 a.m. to 4 p.m. Spectator admission: $5. Vehicle admission: $10. Hosted by Tottenham Beeton District Chamber of Commerce. Info: 416-970-5473, email: tottenhamcarshow@gmail.com
Jul 8

11th Annual Owen Sound Wings and Wheels

Owen Sound

Owen Sound Billy Bishop Airport, Hwy. 26, largest event of its kind north of London, 8 a.m. to 4 p.m., show cars entry to field 7:30 a.m., expect 350 classic cars, trucks, British sports, muscle cars, rods, fire apparatus display, OPP display, vendors, food court, draws all day, live on stage Bogus Creedence (Creedence Clearwater Revival cover band), 60-90 aircraft sanctioned COPA fly-in, wartime aircraft, fly with the Canadian Harvards, ride in a Cessna with Owen Sound Flight Services. Awards: farthest distance, judge`s choice 1950s-1960s, judge`s choice 1970s, 1980s, best muscle, best original and more. Spectator admission: adults still only $10, kids 12 and under free, free parking, wheelchair access, disability parking right at gate with permit. Vehicle admission: $10 includes one passenger and souvenir windshield sticker. Sponsored by Owen Sound Rotary Club, Scenic City Order of Good Cheer, COPA Flight 144, all proceeds to Rotary Presqu`ile Youth Camp. Info: Steve, 519-375-1446, email: oldguys@bmts.com
Jul 8

27th Annual Rotary Car Show

Ridgetown

Watson Grove Park, 8 a.m. to 3:30 p.m., please pass this along to your friends. Spectator admission: by donation. Vehicle admission: $7.50 advance, $10 after June 30. Hosted by Ridgetown Rotary Club. Info: jeffgeddes@sympatico.ca
Jul 11

Warsaw Cruise Night 8

Warsaw

Classic cars, motorcycles, 50`s-60`s music, BBQ, homebaked pies, prizes. Every Wednesday night throughout the summer. pGates open at 5 at the Warsaw Lion`s Park in downtown Warsaw, just NE of Peterborough. All are welcome.
Jul 13 - Jul 15

Bruce Telecome 2018 Lighthouse Blues Festival

Kincardine

Over 30 bands booked. Recognized as a Top 100 Festival in Ontario by tourism industry for the last 4 years and known the Best Little Blues Festival around! Top touring international blues artists in an intimate outdoor setting. Now in its 9th year the Bruce Telecom Lighthouse Blues Festival is expanded to have once again its Main Stage overlooking the beautiful Kincardine Harbour and Lighthouse both evenings, and the free Street Festival experience on Saturday afternoon with 4 additional performance stages, a Music Workshop Tent, vintage British Sports Car display, a street market and an Art Zone with family oriented activities! Over 30 artists, plus a Sunday morning Gospel Revival! All taking place in beautiful lakeside Downtown Kincardine. Some events at The Bruce Steakhouse, 750 Queen St., doors open 4:30 p.m., events start at 5:00. Follow us as we pull together this incredible 3 day music event on our website and on Facebook. General admission: $35. It's all blues!
Jul 13

Cruising On King Street

Kitchener

Victoria Park, 32 Dill St., 3 p.m. to 10:30 p.m. Spectator admission: free. Vehicle admission: $10. Hosted by City of Kitchener. Info: Julie Marshall, 519-741-2200 x. 7386, email: Julie.Marshall@kitchener.ca
Jul 13 - Jul 15

42nd Annual Heritage and Antique Show

Ilderton

Featuring Allis Chalmers Tractors and Equipment. Hosted by Tri County Heritage Club. Info: 519-659-4286 or 519-461-1974
Jul 13 - Jul 15

North Shore Challenge Drag Race

Elliot Lake

Elliot Lake Airport Dragway, Hwy. 108, 8:30 a.m. to 8 p.m. each day. Spectator admission: go to our website or call our toll free number for prices. Vehicle admission: $30 day (driver only $5 off day or weekend pass), $40 weekend. Info: 1-800-661-6192, email: darla.hennessey@city.elliotlake.on.ca. On facebook: North Shore Challenge Drag Race
Jul 14 - Jul 15

34th Annual Muskoka Pioneer Power Show

Bracebridge

J.D. Lang Activity Park - Bracebridge Fairgrounds, 331 Fraserburg Rd., Sat. 7 a.m. to 5 p.m., Sun. 7 a.m. to 4 p.m. Spectator admission: $5, children under 12 free. Hosted by Muskoka Pioneer Power Assoc. Info: email mppacommunication@outlook.com
Jul 14

Private Collectors Garage Tour

Mildmay

Mildmay-Carrick Rec Centre, 24 Vincent St., 11 a.m. car tour, 4:30 p.m. to 7:30 p.m., steak dinner (two sittings), six local collectors will have their vehicles on display on their property beginning at 11 a.m. Spectator admission: car tour only $20, steak dinner $25. Hosted by The Rotary Club of Mildmay (all proceeds to Walkerton CT Foundation and local projects). Info: Bob Harrison, 519-367-3482, email: harr@wightman.ca
Jul 14

Creemore Valley Classics

Creemore

Join us for the 11th annual Creemore Valley Classics. A celebration of classic cars, trucks and bikes in the heart of downtown Creemore. Take a scenic drive to the village and enjoy the tree lined streets, historic buildings and a selection of the best classics in Southern Ontario. Enjoy live entertainment, special exhibits and the Creemore Springs beer garden.
Jul 14

Baconfest Car Show

Lucan

Market St., 10 a.m. to 3 p.m., registration starts at 7:30 a.m. Vehicle admission: $10, includes coffee, timbits and goodie bags. Hosted by Sandra and Barb. Info: 519-282-8897, email: lionbarbtuxford@gmail.com
Jul 14

8th Annual Ramara Classic Car Show

Brechin

Brechin Dry Dock Marine, 150 Laguna Parkway, 10 a.m. to 4 p.m. Spectator admission: free. Vehicle admission: $10 by July 1st, $15 at gate. Hosted by Ramara Chamber of Commerce. Info: 705-484-2141, email: info@ramarachamber.com
Jul 14

Fisherville Show and Shine

Fisherville

Fisherville Lions Park, 18 Main St. W. (Conc. 5), 10 a.m. to 3:30 p.m., show open to all makes, models, years of cars, trucks, tractors, bikes, etc., anything with an engine and wheels is welcome. Spectator admission: free. Vehicle admission: $10. Hosted by Fisherville Lions. Info: 905-779-0504, email: melaniesteeves@execulink.com
Jul 14

Ford Show

St. Marys

St. Marys Ford, 555 Queen St. W., 9 a.m. to 2:30 p.m. St. Marys Heritage Days, come and enjoy this beautiful stone town, DJ Rock and Roll Frankie. Spectator/vehicle admission: free. Hosted by St. Marys Ford. Info: 519-285-8263
Jul 14

Kruzzin For Khloe

Peterborough

This is an awareness event for SMA (spinal muscular atrophy) where Classic, Muscle Cars and Motorcycles will meet in Scarborough at 9am, kruz to Whitby at 10am and then to Peterborough at 11:30am where vehicles will park in designated area at Lansdowne Place Mall to be displayed for public viewing while enjoying music, silent auction tables, draws, prizes for participants, information on SMA and much more from 12:30pm to 4pm (Rain date Sunday July 22, 2018). Admission is free and everyone is welcome. Kruz details can be found on Facebook @ Butterflies for Khloe. Spaces are limited!! Please forward any questions or register via email to kruzzinforkhloe@gmail.com - donations are welcome
Jul 14

Tillsonburg Lions Club Car Show

Tillsonburg

Memorial Park, John St., 9 a.m. to 3 p.m., car show is running jointly with Tillsonburg Rib Fest. Spectator admission: free. Vehicle admission: $10. Hosted by Tillsonburg Lions Club. Info: 519-842-4248, email: mckenzieautoparts@rogers.com
Jul 15

Wings and Wheels

Trenton

National Air Force Museum of Canada, 220 RCAF Rd., 10 a.m. to 4 p.m. Spectator admission: by donation. Vehicle admission: $10. Hosted by Quinte Humane Society and NAFMC Foundation. Info: Quinte Humane Society, 613-968-4673, email: ghs@quintehumanesociety.com
Jul 15

Queen's Cup

Kingsville

Kingsville Lakeside Park, 315 Queen St., 9 a.m. to 2 p.m. Spectator admission: free. Vehicle admission: $10. Hosted by Queen's Auto Supply. Info: Jim Gerhardt, 519-733-6554
Jul 15

Fly-In Breakfast Car Show

Iroquois

Iroquois Air Field, Elizabeth Drive S., 8 a.m. to noon. Spectator/vehicle admission: free. Hosted by Golden Gears Car Club. Info: 613-652-2664, email: fomoco@eastlink.ca
Jul 15

Lakeside Antique and Classic Car Show

Cobourg

Open to all original looking vehicles 20 years and older, Victoria Park, same location, new entrance, Church St., south of Queen, 8 a.m. to 4 p.m. Spectator admission: free. Vehicle admission: $10. Hosted by Great Pine Ridge Region Antique and Classic Car Club of Canada. Info: 905-349-2272 or 905-885-9166
Jul 15

22nd Annual Transportation Day Car and Motorcycle Show

Keene

On the scenic banks of the Indian River, Lang Pioneer Village Museum, 104 Lang Rd., registration 8 a.m. to 12 noon, open to public 10 a.m. to 4 p.m. Vehicle admission: $10, includes entrance to Historic Village. Info: 1-866-289-5264
Jul 15

Kingsville All British Car And Bike Show

Kingsville

Canadian Transportation Museum, 6155 Arner Townline, 9 a.m. to 2 p.m. Show cars' registration opens at 8 a.m., $10 each car. Door prizes 1 p.m. to 2 p.m. British vendors gates open at 7 a.m., vending is free. Refreshments available in our boarding house 9 a.m. to 2 p.m., breakfast and lunch available in the 50's diner, 8 a.m. to 2 p.m. Info: 705-776-6909, email: info@ctmhv.com
Jul 15

21st Annual All Thunderbird Show

Lambeth

New location, Lambeth Legion Branch 501, 7097 Kilbourne Rd., 9 a.m. to 3 p.m. Spectator/vehicle admission: free. Hosted by Southern Ontario Thunderbird Club
Jul 15

27th Annual Classic Show and Shine Car Show

Oshawa

Rain date Juy 22. Fraser Chrysler, 799 Bloor St. W., 8 a.m. to 1 p.m. Spectator/vehicle admission: free. Hosted by Fraser Automotive Family. Info: 877-999-0525, email: ken@fraserchrysler.ca, or johnnice3650@gmail.com
Jul 15

Antique and Classic Car Show

Owen Sound

Grey Roots Museum and Archives, 102599 Grey Rd. 18, RR4, 11 a.m. to 3 p.m. Spectator admission: $8 adult, $6 senior; $20 family, $4 child (5-12), under 5 free (regular museum admission applied). Vehicle admission: contact for registration details. Hosted by Grey Roots Museum and Archives. Info: Katie Clarke, 519-376-3690
Jul 15

Brits-In-The-Park

Lindsay

A celebration of British automobiles and motorcycles, Victoria Park, Kent St. and Victoria Ave., 9 a.m. to 2 p.m. British car themed photo and craft contests and Queen`s garden party, food truck. Spectator admission: free. Vehicle admission: $20. Hosted by Victoria British Car Club. Info: dlivingstone802@gmail.com, vendors: rhphilp_44@yahoo.com
Jul 15

Haldimand Ford Truck Show

Fisherville

Fisherville Lions Park, 18 Main St. W. (Conc. 5), 10 a.m. to 3:30 p.m., show open to only Ford and Mercury trucks, vans, Broncos, Rancheros and Ranger based vehicles. Spectator admission: free. Vehicle admission: $10. Hosted by Classic Ford Truck Club - Haldimand Chapter. Info: 905-779-0504, email: melaniesteeves@execulink.com
Jul 16

Cruise Night Show and Shine

Stratford

Rain date July 30, Bethel Church, Hwy. 7 and 8, 6 p.m. to dusk, oldies played, door prizes, BBQ, ice cream. Spectator/vehicle admission: free. Hosted by Bethel Church. Info: Robert, 519-271-7648
Jul 16

Fox Ridge Care Community Cruise Night

Brantford

Rain or shine, back parking lot, 389 West St., 6 p.m. Hosted by Fox Ridge Care Community. Info: 519-759-4666 ext. 2126, email: derek.hendershott@sienna.living.ca
Jul 18

Warsaw Cruise Night 9

Warsaw

Classic cars, motorcycles, 50`s-60`s music, BBQ, homebaked pies, prizes. Every Wednesday night throughout the summer. Gates open at 5 at the Warsaw Lion`s Park in downtown Warsaw, just NE of Peterborough. All are welcome.
Jul 19

Forest BIA Car Show

Forest

King St. W., 3 p.m. to 8 p.m. Spectator/vehicle admission: free. Hosted by Forest Business Improvement Area. Info: 519-786-5062, email: vans@xcelco.on.ca
Jul 19

Help Us Put The Brakes On Diabetes, Craftworks At The Barn

Fowlers Corners

124 Lindsay Rd., 1 km east of Fowlers Corners, 4 p.m. to 8:30 p.m., join us for a night of family fun, live band, 50/50, trip to Las Vegas, lots of prizes, lots of auction items, all funds raised will help purchase new Juvenile Diabetes monitoring equipment at PRHC and help send kids with diabetes to Summer Camp at Camp Huronda. Spectator/vehicle admission: entry by donation. Hosted by Fowlers Corners and District Lions Club. Info: 705-740-6904, email: fcadlionsclub@gmail.com
Jul 20 - Jul 22

Farmersville Exhibition

Athens

Centre 76, Centennial Park, Friday 6 a.m. to 9 p.m., Saturday & Sunday 9 a.m. to 5 p.m. Spectator admission: Friday evening $5, $10 day or $15 weekend. Vehicle admission: free. Hosted by Athens Lions Club. Info: Peter, 613-498-7606
Jul 20

Downtown Milton Classic Car Show

Milton

Downtown, Main St. E. between Brown St. and Fulton St., 6 p.m. to 10 p.m. Spectator admission: free. Vehicle admission: $15. Hosted by Downtown Milton Business Improvement Area. Info: 905-876-2773, email: info@downtownmilton.com
Jul 21

Ailsa Gala Days Car Show

Ailsa Craig

Ailsa Craig Community Centre, 155 Annie Ada Shipley St.,12 noon to 4:30 p.m., dash plaques, custom trophies, food vendors, beer garden, free family activities. Spectator admission: free. Vehicle admission: $5. Hosted by Ailsa Craig Gala Days. Info: 519-318-9580, email: roppfarrier@hotmail.com
Jul 21

Classic Shine on the Grand Car Show

Cayuga

Grand River, Ouse St., live entertainment, rain or shine, door prizes and trophies, 50/50 draw. Spectator/vehicle admission: food bank donation. Hosted by: Cayuga Fest. Info: 905-772-2612
Jul 21

Memories Then and Now Car Show

Goderich

The Square, 9 a.m. to 3 p.m. Vehicle admission: $10. Hosted by Circle City Cruizers. Info: 519-524-2477
Jul 21

9th Ribfest Classic Car Show

Orangeville

Alder Street Arena, 275 Alder St., 3 p.m. to 8 p.m., registration starts at 3 p.m. Spectator admission: donations appreciated to the Orangeville Rotary Club. Vehicle admission: free. Hosted by Orangeville Rotary Club
Jul 21

14th Thorold BIA Car Show

Thorold

Front St., south and north, 9 a.m. to 3 p.m. Spectator/vehicle admission: free. Hosted by Thorold BIA. Info: 905-680-7334, email: thoroldbia_marsha@hotmail.com
Jul 21

Classics In The Park

Barrie

25 years and older, Heritage Park, downtown Barrie, 8 a.m. to 4 p.m. Spectator admission: free. Vehicle admission: $10. Hosted by Barrie Thunder Classic Car Club. Info: barriethunderclassics@hotmail.com
Jul 21

26th Annual TartanDay Car Show

Glencoe

Main St., 10 a.m. to 3 p.m., pancake breakfast, BBQ, dash plaques to first 75 cars. Vehicle admission: $5. Hosted by Strathroy Caradoc Cruisers. Info: Darryl, 519-868-6968, email: soundsen@eastlink.ca
Jul 21

7th Annual Antique Car, Truck, Motorcycle & Tractor Show

Mitchell's Bay

Mitchell's Bay Park, Main St., 11 a.m. to 4 p.m. Spectator admission: free. Vehicle admission: $10. Hosted by Mitchell's Bay Area Association. Info: 519-436-9846, email: kmiles@mitchellsbay.org (download registration form at website)
Jul 21

16th Annual Flamboro Valley Car Show

Flamborough

Flamborough Valley Camping Resort, 10 a.m. to 5 p.m., open to all makes and models, all car clubs welcome, class awards, vendors welcome (but please call), live muisc (Rolly Rocket and the Hemi Heads). Vehicle admission: $7 donation, all donations to McMaster Children`s Hospital. Hosted by Flamboro Valley Camping Resort. Info: 905-659-5053, email: info@flamborovalley.com
Jul 21

21st Annual Summer Super Cruise

Orono

Note new date. Noone`s Petro Canada, Hwy. 115 southbound, 3 kms south of Hwy. 35/115 intersection, 10 a.m. to 4 p.m. Hosted by Noone`s Petro Canada and Road Legend Cruisers. Info: 905-983-9290
Jul 22

37th Dorchester Rod and Custom Show

Dorchester

Dorchester Optimist Hall, 1653 Richmond St., 8 a.m. to 3 p.m. Spectator admission: $4, 12 and under free. Vehicle admission: $10. Hosted by OOFCC and North Dorchester Optimist Club. Info: John, 519-786-2733, or Pauline, 519-264-1758
Jul 22

Massie Classic Car Show

Chatsworth

Massie Hall Grounds from 1 pm to 4 pm - $5 registration - Door prizes and trophies - Massie Road and Veterans Rd N.
Jul 22

VDubfest 2018 VW Show

Manchester

Haugens BBQ Chicken and Ribs, 7:30 a.m. to 3 p.m. Spectator admission: free. Vehicle admission: $15. Vendors: $15. Hosted by Volks 'R' Us VW Club. Info: 416-281-5615, email: volksrus@gmail.com
Jul 25

Warsaw Cruise Night 10

Warsaw

Classic cars, motorcycles, 50`s-60`s music, BBQ, homebaked pies, prizes. Every Wednesday night throughout the summer. Gates open at 5 at the Warsaw Lion`s Park in downtown Warsaw, just NE of Peterborough. All are welcome.
Jul 27 - Jul 29

Wheels On The Bay

Belleville

Zwick`s Centennial Park, 10 Bay Bridge Rd., Fri. 11 a.m. to 5 p.m., Sat. 8 a.m. to 5 p.m., Sun. 8 a.m. to 4 p.m. Spectator admission: $5. Vehicle admission: $20, $30 weekend pass. Hosted by Wheels On The Bay. Info: Don Postma, 613-920-5554, email: info@wheelsonthebay.com
Jul 27

Exeter Tire and Auto Centre Charity Cruise Night

Exeter

Exeter Tire and Auto Centre, 120 Thames Rd. W., 4 p.m. to 9 p.m. Spectator/vehicle admission: free. Hosted by Exeter Tire and Auto Centre. Info: 519-317-2337, email: yohan1967@hotmail.com
Jul 27

Cruise Night Classic Car Show

Markdale

Downtown Main St. W., 6 p.m., register at event before 6 p.m. Spectator/vehicle admission: free. Hosted by Grey Highlands Chamber of Commerce. Info: Kate Fitzpatrick, 519-986-4612
Jul 28

Hot Rod Kings and Vintage Wings

Brantford

Brantford Municipal Airport, 110 Aviation Ave., 10 a.m. to 4 p.m. Spectator/vehicle admission: free. Hosted by: Brantford Flying Club. Info: 519-753-2521, email: info@flybfc.com
Jul 28

Cruisin' to Sights and Sounds Car and Motorcycle Show

Hanover

Downtown, 341 10th St., 2 p.m. to 4 p.m. Spectator/vehicle admission: free. Hosted by: Hanover Sights and Sounds Festival. Info: 519-506-2474, email: cip@hanover.ca
Jul 28

4th Annual Sysco Car Show and Open House

Woodstock

1515 Commerce Way, 10 a.m. to 2 p.m., great food, prizes, music and 50/50, all money raised is for Jumpstart, open house, a chance to see inside Sysco and what we do. Spectator admission: free. Vehicle admission: free, donations welcome. Info: 519-260-0259, email: toddsjudge@yahoo.com
Jul 28

BBQ Fest 2018

Georgina

The Roc, 26479 Civic Centre Rd., 1 p.m. to 6 p.m. Spectator admission: $2. Vehicle admission: $10. Hosted by The Ones Car Show. Info: 905-251-3564, email: forrest@stllighting.com
Jul 28

10th Anniversary Snappin' Appin Cruise Day & Yard Sale

Appin

Town wide yard sale. Appin Ball Park, cruise 10 a.m. to 3 p.m., yard sale 8 a.m. to noon, dash plaques for first 100, BBQ on site, 50/50 draw. Vehicle admission: free. Hosted by Ekfrid Museum Board of Directors
Jul 28

Hilton Beach Classic Car Show

Hilton Beach

Waterfront and Marks Street, 12 noon to 5 p.m. Featuring over 85 original, restored and special interest cars. Located along the waterfront and up Marks Street. Admission is free. Also there is arts and crafts, vendors, and a food tent. There are many local parks and sandy beachees, picnic areas, public washrooms, and playgrounds. Enjoy great swimiming or bring your camera to photograph the surrounding beauty and wildlife. Info: 705-246-2242
Jul 28

CVMG Rally

Ingersoll

Leaping Deer Adventure Ranch, 544212 Clark Rd., 8 a.m. to 3 p.m. Spectator admission: $5. Vehicle admission: free. Hosted by Canadian Vintage Motorcycle Group. Info: 519-285-2206, email: dougmcki@rogers.com
Jul 28 - Jul 29

Perth Ribfest Music Festival

Perth

New location: Last Duel Park, south on Gore St., east on Cockburn St., follow signs, registration starts 10 a.m. Spectator/vehicle admission: donation. Hosted by Rotary Club of Perth. Info: Neil Graham, 613-326-0521, email: neilegraham50@gmail.com
Jul 28

Walkerton's 4th Annual Car and Truck Show

Walkerton

Walkerton Fairgrounds, 210 Durham St. W., 10 a.m. to 3 p.m., vendors welcome. Spectator/vehicle admission: free. Hosted by Walkerton Agricultural Society. Info: 519-881-0586, email: minglis@wightman.ca
Jul 29

Woodgreen Show and Shine, Car and Bike Swap Meet

Wardsville

2351 Longwoods Rd., 10 a.m. to 3 p.m. Spectator admission: donation. Vehicle admission: free. Info: Norm, 519-693-4348
Jul 29

Vintage Wheels & Wings

Hamilton

Bring your vintage vehicle to the Canadian Warplane Heritage Museum to be part of our show or just drop by to view the beautiful collection of vintage cars and aircraft. Due to the overwhelming response of vintage cars last year, this year - VEHICLE PRE-REGISTRATION IS REQUIRED! Car owners may take pictures in front of a vintage aircraft for a minimum donation of $5 to the Museum. We consider a VINTAGE vehicle to be one that was manufactured 20 years ago or more (so 1998 or older).
Jul 29

Amherstburg's Gone Car Crazy Show 'n Shine

Amherstburg

Downtown, all vehicles welcome, gates open 7 a.m., registration 9 a.m. to 1 p.m., show 11 a.m. to 4 p.m. Vehicle admission: $10. Hosted by Amherstburg Entertainment Committee. Info: 519-736-4020
Jul 29

Mattawa Antique Car Show

Mattawa

McElligott High School, 37 Pine St., 11 a.m. Norm Landriault Memorial Show and Shine vehicle display, all antique cars welcome
Jul 29

13th Annual NRMCC Maverick Comet Meet and Greet and Mountain Cruise 7.

Milton

This is our 13th Annual NRMCC Maverick Comet Meet and Greet and Mountain Cruise 7. This is an all year Comet and Maverick show and shine. All years and types of Comets and Mavericks welcome, hotrods, stationwagons, 4-door, race car, finished or project, all welcome. Dash plaques for all Mavericks and Comets that attend. A DVD of the event will be produced and distributed at a later date. This is a free event. 45 Chisholm Dr. Milton Ontario at Kelsey`s restaurant. 1:00 p.m.
Jul 29

Canadian Volvo Club Family Day

Ilderton

22679 Wonderland Rd. N., 9 a.m. to 3 p.m. Spectator admission: $5. Vehicle admission: $10 member, $20 non-member. Hosted by Bev and Beverly Hughes. Info: 519-666-0452, email: secretary@canadianvolvoclub.org
Jul 29

Ford Stampede

Oakville

Ford of Canada HQ, 2000 The Canadian Rd., gates open at 8:30 a.m., close at 11 a.m. Spectator admission: free. Vehicle admission: $20 pre-registered, $30 at the gate. Hosted by GHMA and GTAMC. Info: questions@fordstampede.ca

Date
August Events
City
Details
Aug 1

Warsaw Cruise Night 11

Warsaw

Classic cars, motorcycles, 50`s-60`s music, BBQ, homebaked pies, prizes. Every Wednesday night throughout the summer. Gates open at 5 at the Warsaw Lion`s Park in downtown Warsaw, just NE of Peterborough. All are welcome.
Aug 2

Hot August Nights Show Car Cruise Night and Dance

Sarnia

Canatara Park, Christina St., 6 p.m. to 10 p.m. Spectator admission: by donation. Hosted by Sarnia Street Machines. Info: 519-845-0668
Aug 3 - Aug 6

53rd Annual Georgetown Bay Steam Show

Cookstown

Club Property, 4635 Victoria St. W., 7:30 a.m. to 8 p.m.Spectator admission: $8 Friday and Monday, $12 Saturday and Sunday. Vehicle admission: free. Hosted by: Georgian Bay Steam Show. Info: 705-357-2531, email: info@steamshow.ca
Aug 3 - Aug 5

20th Annual Dragfest Drag Race and Car Show

Terrace Bay

Terrace Bay Airport, be a part of the best automotive event in northwestern Ontario. Camping available onsite, racers welcome, too. Spectator admission: Friday $10, Sat. and Sun. $20 day. Vehicle admission: no extra fee for entering your classic or special interest vehicle in the car show. Hosted by Superior Classics Car Club
Aug 3 - Aug 4

Little Current Lions 16th Annual Haweater Cruise Night and Car Show

Little Current

Join us for the Little Current Lions 51st Annual Haweater Weekend and 16th Annual Cruise In Saturday August 4th 10am to 4pm on the waterfront of Lake Huron`s North Channel. Dash plaques, music, BBQ, awards, appreciation gift, charity auction and lots more. Free registration, donations accepted. All proceeds to local charity. Friday night cruise night downtown Little Current starting at 5pm. For more information call or email Roy 705-368-1326 or rknobel@personainternet.com
Aug 4

Dutch Mill's Annual Classic Car Show

Dundas

Dutch Mill Country Market, 533 Mill Grove Sideroad, 8 a.m. to 3 p.m., proceeds to Animal Adoptions of Flamborough, live entertainment by the Rock 'n Ray Michaels Retro Rockers, door prizes, 50/50 draw. Spectator admission: free. Vehicle admission: $10. Hosted by Dutch Market.
Aug 4

Rosseau Classic Cruise - Antique Boat and Classic Car Show

Rosseau

Open to all special interest vehicles, Rosseau Waterfront Park, on picturesque Lake Rosseau, 1 Jim Swift Dr., 8 a.m. to 3 p.m. Spectator admission: by donation. Vehicle admission: $10. Hosted by Rosseau Community Action Committee. Info: Tony Hawkrigg, 705-732-1622. See us on facebook
Aug 4 - Aug 5

36th Fenelon Falls Show and Flea Market

Fenelon Falls

Fenelon Fairgrounds, 27 Veteran's Way, Saturday 10 a.m. to 5 p.m., Sunday 10 a.m. to 4 p.m., gates open 7 a.m. daily. Spectator admission: adult weekend pass $8, under 12 free. Vehicle admission: $10 (includes two adults). Vendor spots: $25, includes two adults. Hosted by Fenelon Falls Lions Club. Info: 705-887-2277 or 705-887-3882
Aug 5

23rd Annual Classic and Antique Car Show

Fullarton

Rain date September 2, 2778 Perth County Rd. 163, 12 noon to 4 p.m. Info: Rick, 519-229-8982, or Jim, 519-461-1449
Aug 5

Corvettes of Southern Ontario Car Show

Simcoe

Lynwood Park, Norfolk St., downtown, 8 a.m. to 3 p.m. Spectator admission: free. Vehicle admission: $15 at gate. Hosted by Corvettes of Southern Ontario. Info: Bob, 519-426-6468, email: Rlgare@sympatico.com
Aug 6

Lions Antique and Classic Car Show and Park Picnic

Pefferlaw

Restricted to vehicles 25 years or older, Lions Community Centre, 38 Pete's Lane, 10 a.m. to 3 p.m., trophies, dash plaques, prizes. Spectator admission: free. Vehicle admission: $10. Hosted by Pefferlaw Lions. Info: Don, 905-830-2286
Aug 8

Warsaw Cruise Night 12

Warsaw

Classic cars, motorcycles, 50`s-60`s music, BBQ, homebaked pies, prizes. Every Wednesday night throughout the summer. Gates open at 5 at the Warsaw Lion`s Park in downtown Warsaw, just NE of Peterborough. All are welcome.
Aug 8

Classic Car and Truck Show

Oshawa

420 (City of Oshawa) WING RCAFA, 1000 Stevenson Rd. N., 9 a.m. to 2 p.m., pancake breakfast 9 a.m. to 11 a.m., BBQ 11 a.m. to 2 p.m.. Spectator/vehicle admission: free. Hosted by: 420 (City of Oshawa) WING. Info: 905-723-2845, email: treasurer@420wing.com
Aug 9 - Aug 12

44th Annual South Eastern Ontario Street Meet

Ameliasburgh

Prince Edward Auto Club, 800 Whitney Rd., 9 a.m. to 3 p.m., a family friendly event featuring camping and car show, early bird camping available, daily runners. Spectator admission: Saturday and Sunday $5, children under 12 free. Vehicle admission: $5. Info: Fred Morton, daily 6 p.m. to 8 p.m., 613-813-4596, email: oilman_1962@hotmail.com, like us on facebook: https://www.facebook.com/groups/PrinceEdwardAuto Club
Aug 10 - Aug 12

40th Elgin Historical Show

St. Thomas

Dan Patterson Conservation Area, 44014 Highbury Ave. at Mapleton Line, Friday 9 a.m. to 4 p.m., Saturday & Sunday 7 a.m. to 4 p.m. Spectator admission: $6, under 12 free. Hosted by Kettle Valley Pioneers. Info: 519-269-3977 or 519-773-3934
Aug 10 - Aug 11

Bothwell Car Show & Swap Meet

Bothwell

Victoria Park, 498 Elm St., Automotive Swap Meet starts Friday, Car Show & Swap Meets starts Saturday, 8 a.m. both days. Adults $5 each day, children under 12 free with adult. Food vendors, entertainment, mega 50/50 draw
Aug 10

20th Annual GM St. Catharines Show and Shine

St. Catharines

Show is open to GM and GM powered vehicles only, McKinnon Park, 570 Glendale Ave., 7 a.m. to 2 p.m., for more details and to pre-register for the car show and plant tours, please visit the website. Vehicle admission: $5. Hosted by GM St. Catharines. Info: 905-641-6619, email: gmstcatharines.communications@gm.com
Aug 11

Britt, Byng Inlet 150th Anniversary Celebration

Britt

Britt Waterfront and Rec Centre, 69 Community Dr., Hwy. 69 to Hwy. 526 - follow signs, 10 a.m. to 3 p.m., children's fishing derby, beer tent, crafts, games, food, live music, family event. Spectator admission: free. Vehicle admission: $10. Hosted by Britt/Byng Inlet Communities Car Show and Britt Lions Club. Info: Steve, 705-383-2432, email: sbwohleber@gmail.com
Aug 11

Corbett Fun Days

Corbett

Corbett Community Centre, 35914 Corbett Rd., 11 a.m. to 7 p.m. Spectator admission: free. Vehicle admission: $10. Hosted by: Corbett Community Centre. Info: 519-641-9186, email: chermcd@hotmail.com
Aug 11

Leslie Motors All Ford Show

Harriston

Downtown, Elora St., 10 a.m. to 4 p.m. Spectator/vehicle admission: free. Hosted by: Leslie Motors. Info: 1-800-997-2310
Aug 11

10th Annual Family Fun Fest

Kinmount

Railway Station, Station St. Spectator/vehicle admission: free. Hosted by: Family Fun Fest Committee. Info: 705-488-1706
Aug 11

Annual Alliston PotatoFest Classic Car and Truck Show

Alliston

Victoria St. W., 9 a.m. to 3 p.m., gates open at 8 a.m., registration from 9 a.m. to 12 noon, prizes to be awarded at 3 p.m., all participants will be required to enter from King St. N., no earlier than 8 a.m., and please co-operate with parking attedant's directions and procedures so that we have room for everyone. Spectator admission: free. Vehicle admission: $10. Hosted by: Recycled Teenagers Classic Car and Truck Club. Info: 416-970-5622, email: rrheidman@gmail.com
Aug 11

30th Edenvale Classic Aircraft Foundation Gathering of Classics

Stayner

Edenvale Aerodrome, 5195 Hwy. 26 E., 10 a.m. to 4 p.m., rain date Sunday, August 12. Spectator admission: adults $15, youth 10-17 $5, children 9 and under free. Hosted by Edenvale Classic Aircraft Foundation. Info: 705-818-2223
Aug 11

9th Annual Classic Car, Motorcycle and Truck Show

Erin

Erin Legion, 12 Dundas St. E., 10 a.m. to 4 p.m. Spectator admission: donations. Vehicle admission: donations only. Info: Don, 519-710-4100, Howard 416-200-7873, or Wally, 416-931-5939, email: hwheeler4@sympatico.ca
Aug 11

Sandfest Classic Car Show, On The Beach

Sauble Beach

Lakeshore Blvd., 10 a.m. to 4 p.m., gate opens at 8 a.m., show vehicles must be 25 years and older. Spectator admission: free. Vehicle admission: $10. Hosted by: Sauble Sunset Cruisers, supporting community projects. Info: 519-422-1996, email: jlsher@sympatico.ca
Aug 11

Dave Blackburn Memorial Shine On Car Rally and Show

Stratford

This event will take place for the first time Saturday, August 11, 2018 is a joint venture by The Rotary Club of Stratford and the Stratford Perth Museum, featuring North American models up to 1975. The day includes the car rally, show & shine, food, games, music, and a beer garden. Both organizations were considering running a car rally and car show for a couple of years. The two organizations have a great relationship and have partnered on a number of projects over the years so, it just made sense they would join forces to create what we think will be a great event not only in 2018 but for years to come. Besides being a fundraiser for the Rotary Club, this event is also a tribute to the late Dave Blackburn, a former president and proud member of the Rotary Club of Stratford and an exceptional community leader. For the Stratford Perth Museum, the rally is a perfect fit as it has an historical element. The rally will take participants to a number of historically significant locations around Perth County. In addition, the rally concludes at the Stratford Perth Museum grounds and that is also the venue for the Show and Shine. The event promises to be family-friendly, fit for everyone – whether you're crazy for classic cars or simply out for some classic fun and entertainment.
Aug 12

World Barefoot Championships Car Show and Shine

Napanee

This is the first time Canada has hosted the Worlds Best Barefoot Waterskiers. Napanee Ontario will host the 14 Countries as they spend a week skiing on Dream Lake just east of Selby. Come out to a free show for cars and Barefooting. Food and other Vendors on site
Aug 12

Kinsmen 20th Annual Show and Shine

Niagara-On-The-Lake

Kinsmen Scout Hall, 370 King St. at Marys St., 8 a.m. to 4 p.m., plaques for the first 500 cars. Spectator admission: $3. Vehicle admission: $10. Hosted by: Niagara-On-The-Lake Kinsmen. Info: 905-468-7529, email: elly.bob@cogeco.ca
Aug 12

Show and Shine Car Show

Turkey Point

Turkey Point Community Pavilion, 6 Meadowbrook Ave., 9 a.m. to 11 a.m. Spectator admission: free. Vehicle admission: $10. Hosted by: Turkey Point Summerfest. Info: Al Freeman, 519-426-7318, or 519-426-7676
Aug 12

45th Annual Antique and Classic Car Show

Vandorf

Rain date August 19. Whitchurch-Stouffville Museum and Community Centre,14732 WoodbineAve. (Stouffville), 11 a.m. to 4 p.m., gates open 9 a.m. for exhibitors. Spectator admission: $5, $15 for family of four, children under 3 free. Exhibitor (plus one guest): free. Info: 905-727-8954, 1-888-290-0337, email: wsmuseum@townofws.ca
Aug 12

3rd Annual Crown Vettes Show

Lambeth

Lambeth Legion, 7097 Kilbourne Rd., 8 a.m. to 2 p.m., breakfast and lunch available. Spectator admission: free. Vehicle admission: $20. Hosted by: Corvettes of Western Ontario
Aug 12

Acton Leathertown Festival Car Show

Acton

Town Hall, 19 Willow St. N., 11 a.m. to 5 p.m. Hosted by: Downtown Action - Georgetown Toyota. Info: 519-853-9555
Aug 12

6th Annual Trans Am and Firebird Show

London

The Steve Plunkett Estate, 9282 Elviage Dr., 9 a.m. to 3 p.m. Spectator admission: $5. Vehicle admission: $5. Hosted by: London Trans Am. Info: 519-619-1286, email: info@hawk-design.com
Aug 12

Streetfest Cruise

Woodstock

Downtown, 466 Dundas St., 8 a.m. to 3 p.m. Spectator admission: free. Vehicle admission: $10, first 300 receive swag bags. Hosted by: South Gate Centre. Info: 519-539-9817, email: chris@southgatectr.ca
Aug 12

2018 World Barefoot Championships and CARSHOW and SHINE

Selby

This is a one time only Show and Shine. The Peoples choice award will be selected by some of the competitors from 14 other countries. The winner will get a ride in the Sanger boat with Footers in tow. Once in a lifetime to see this Caliber of Barefooters in Canada. Great cars, great boats and even better Footers. Food on site. Fish Fry is 15 bucks and starts at 4. Show is from 1 to 4.
Aug 15

Warsaw Cruise Night 13

Warsaw

Classic cars, motorcycles, 50`s-60`s music, BBQ, homebaked pies, prizes. Every Wednesday night throughout the summer. Gates open at 5 at the Warsaw Lion`s Park in downtown Warsaw, just NE of Peterborough. All are welcome.
Aug 17

Ouellette Car Cruise

Windsor

Riverfront Festival Plaza, Riverside Dr. E. at Glengarry Ave., 1 p.m. to 11 p.m. Spectator admission: free. Vehicle admission: $10 donation. Hosted by: Downtown Windsor Business Improvement Association (DWBIA). Info: 519-252-5723, email: debi@downtownwindsor.ca
Aug 17 - Aug 18

Danforth Car Show And Street Festival

Toronto

Danforth Ave. & Danforth Rd. area, 3345 Danforth Ave., Fri. 6 p.m. to 10 p.m., Sat. 10 a.m. to 11 p.m. One of Toronto's most anticipated community festivals. Hundreds of unique cars pack the streets for awards and cash prizes. Toronto's only street judged car show. Hot rods, muscle cars, tuners, race cars, and exotics. Toronto East Bicycle Fest, movie cars, food vendors, and kids zone. Live bands, DJ's and performers. If it's got wheels,bring it! Scheduled rides, vendors and fun cyclying games for all. Info: info@wheelsonthedanforth.ca
Aug 17 - Aug 18

Motors & Music

Mallorytown

Live local rock music all weekend long, with classic cars parked around the campground for your viewing, horseshoe tournaments, a Woodlands BBQ chicken dinner, local vendors and much more. Bring your classic or antique car to receive $25 off a weekend pass. Free entry for kids under 12!
Aug 18

Annual Wayne Oulds Memorial Show and Shine

Bewdley

Bewdley Community Centre - Ball Park, 7060 Lake St., 10 a.m. to 2 p.m., antique-classic-custom, People's Choice vote award. Vechile admission: $10. Hosted by: Bewdley Skating Club. Info: 905-797-2507, email: bewdleyskatingclub@hotmail.ca
Aug 18

Parkhill Optimist Club Show and Shine

Parkhill

Coronation Park, 176 Broadway St., 10 a.m. to 3 p.m. Hosted by: Parkhill Optimists. Info: Brenda, 519-294-0248
Aug 18

St. Marys Car Show

St. Marys

Milt Dunnell Field, 80 Water St. N., 10 a.m. to 3 p.m. Spectator admission: free. Vehicle admission: $10. Hosted by: Town of St. Marys. Info: Andrea Macko, events coordinator, 519-284-2340 x. 249, email: amacko@town.stmarys.on.ca
Aug 18 - Aug 19

24th Annual Ford and Mercury Truck Nationals

Arthur

Arthur Fairgrounds, Saturday corn and pig roast, afternoon cruise, beer garden and dance. On-ground camping with hyrdo $30 night, rough camping $15. Sunday: awards and gift draws. Spectator admission: $5. Vehicle admission: pre-reg $20 or $25 at gate. Vendors: $20. Cheques payable to Arthur Optimists Club c/o George Tremain, Box 610, Arthur, ON N0G 1A0. Hosted by Arthur Optimist Club and Classic Ford Truck Club. Info: George, 519-827-6936 or 519-848-5252, email classicfordtruckclub@gmail.com
Aug 18

Rods By The River

Newmarket

Water St., 11 a.m. to 4 p.m. Spectator admission: free. Vehicle admission: $10. Hosted by: Newmarket Car Club and Downtown BIA. Info: 905-717-3254, or 289-231-5233
Aug 18

Wheels On The Danforth Toronto Street Festival

Toronto

Danforth Rd. and Danforth Ave., Classic show 11 a.m. to 4 p.m., Tuner show 5 p.m. to 11 p.m. Vehicle admission: $20 at the gate, $15 pre-register (online). Hosted by: Crossroads of the Danforth BIA
Aug 18

Tedfest BMW Show and Shine

Mississauga

No matter how rusty or pristine your BMW is, it's all about the gathering of friends old and new who share the same passion for the BMW marquee. Set in the beautiful, historic Bradley Museum in Mississauga. Its fun for the whole family.
Aug 18 - Aug 19

Moparfest

New Hamburg

251 Jacob St., 8 a.m. to 4 p.m. Spectator admission: $12 per person, kids 12 and under free. Vehicle admission: $35 pre-registered before July 1 or $40 at the gate. Hosted by New Hamburg Optimist Club. Info: 519-342-1284, email: michelle@moparfest.com
Aug 18

20th Annual Downtown Orillia Classic Car Show

Orillia

Downtown Orillia, 33 Mississauga St.W., registration 7 a.m. to 9 a.m., show hours 9 a.m. to 5 p.m. Spectator admission: free. Vehicle admission: $15. Hosted by Downtown Orillia. Info: 705-325-3261, email: office@downtownorillia.ca
Aug 18

Downtown Car Show

Parry Sound

26 James St., 7 a.m. to 3 p.m., special guest Batman and the Batmobile. Spectator admission: free. Vehicle admission: $10. Hosted by Parry Sound Downtown Business Association. Info: 705-746-6426, email: downtown@psba.ca
Aug 18 - Aug 19

Thunder Bay Motorsports Extravaganza

Thunder Bay

Canadian Lakehead Exhibition Grounds, 425 Northern Ave., 7 p.m. both days. View classics, off road, cars, trucks, racing bikes and sleds, imports, sports cars (old and new), work-in-progress vehicles, and much, much more. See our demonstrations on various metal working techniques for the DIY auto enthusaist. Spectator admission: $2 per day, children under 10 free. Free spectator parking, limited participant camping on site, $20 per day. Handicapped accessible grounds. Sponsor/commercial vendor areas. Separate truck/trailer parking. Demos and displays also in Coliseum building. Live entertainment by Rebel Spirit and One Floor Down Fashion show by Hey Sailor. Inflatables, Coliseum building displays, 50/50 draw in support of Thunder Bay Boys and Girls Club. Food and merchandise vendors, tire burn-out, ice racers, CLE racing history, slalom races, engine blow, stock cars, rat rods, sports cars, pancake breackfast. Info: 807-622-6473, email: clex@tbaytel.net
Aug 18

Muskoka Roadshow 2

Bracebridge

Self Guided tour hosted by Auxiliary to the South Muskoka Memorial Hospital. Tickets $25.00 10:00 a.m. to 4:00 p.m. Contact Jan Davidson davdsn@xplornet.ca or 705-385-8774. Showcasing antique cars,trucks, farm equipment and muskoka memorabilia.
Aug 18

skoka Roadshow `2`

Bracebridge

Self Guided tour of 5 sites viewing antique cars, trucks farm machinery and muskoka memorabilia. Tickets on sale June 16th $25.00. Contact Jan Davidson 705-385-8774
Aug 19

Cruise the 7 C's Car Show & Custom Classic Car Cruise In

Sebright

Carden Community Centre, Lake Dalrymple Rd., 8 a.m. to 4 p.m., craft show in hall, participants get a discount at hall and Rympels Restaurant, door prizes and 50/50 draw. Spectator admission: $2. Vehicle admission: free. Hosted by: Carden Community Centre. Info: 705-833-2629, email: tomphillips800@gmail.com
Aug 19

All Ford Show Meet and Greet

Waterloo

Rain date August 19, Columbus Conference Centre, 145 Dearborn Place, 11 a.m. to 3 p.m., BBQ, door prizes, music by Frankie Grecco, all proceeds to local charities, catch us on facebook at Galaxie Club Ontario. Hosted by: The Galaxie Club, email: galaxieclubontario@gmail.com
Aug 19

3rd Annual Natasha Paterson Memorial Car and Truck Show

Shelburne

Natasha Paterson Memorial Park, Gordon St., 10 a.m. to 3 p.m. Spectator admission: free. Vehicle admission: $10. Hosted by: Natasha Paterson Memorial. Info: 416-898-2163, email: natashais@bell.net
Aug 19

2018 Hastings Waterfront Festival Antique & Classic Car Show

Hastings

Hastings Village Marina, 5 Dit Clapper Dr., 9 a.m. to 3 p.m. Spectator/vehicle admission: free. Hosted by: Hastings Waterfront Festival, email: route.66@sympatico.ca
Aug 22

Warsaw Cruise Night 14

Warsaw

Classic cars, motorcycles, 50`s-60`s music, BBQ, homebaked pies, prizes. Every Wednesday night throughout the summer. Gates open at 5 at the Warsaw Lion`s Park in downtown Warsaw, just NE of Peterborough. All are welcome.
Aug 24 - Aug 25

Bean Meet

Zurich

Ball Diamond, Main St., 7:30 a.m. to 4 p.m., cruise at 6 p.m. August 24. Spectator admission: free. Vehicle admission: $20. Hosted by: Wrench Benders. Info: 519-236-4612
Aug 24

Rock and Roll Classic Car Show

Georgetown

Georgetown Downtown, 5 p.m. to 10 p.m. Spectator admission: free. Vehicle admission: $15. Hosted by Downtown Georgetown BIA. Info: 905-873-4970, email: wbonnettl@cogeco.ca
Aug 25

10th Alma Car Show

Alma

Alma Community Centre, 51 Simpson St. E., 9 a.m. to 2:30 p.m., live entertainment. Spectator admission: free. Vehicle admission: $10, includes photo of vehicle and a burger. Hosted by: Alma Optimist and Voodoo's CC. Info: 519-846-0590, email: litzen.warrior@gmail.com
Aug 25

Picker's Swap Meet Antiques and Nostalgia

Belmont

Terry Auto Collision Centre, 15539 Whittaker Rd., south off 401 at Putnam Rd. 8 kms, turn right on Avon Dr., 2 kms to Whittaker Rd., 9 a.m. to 2 p.m., top pickers in Ontario selling advertising, gas and oil memorabilia, tin/porcelain signs, pedal cars and parts, gas pumps, Coke machines, antique toys, nostalgia products, general store items. Spectator admission: $5. Vendors: $20. Hosted by: Terry Auto Body Collision Centre. Info: Michael Terry, 519-269-3705
Aug 25

11th Annual Show and Shine Classic Car Show

Griffith

Rain date August 26, Griffith Hall, Hwy. 41, 10 a.m. to 2 p.m. Hosted by: Denbigh-Griffith Lions Club. Info: Jan, 613-333-1748, or Lions Hall, 613-333-1423
Aug 25 - Aug 26

Autofest Nationals

Oshawa

Lakeview Park, 8 a.m. to 5 p.m. Spectator admission: $12. Vehicle admission: $30 to Aug. 2, then $45. Hosted by Motor City Car Club 1959 Inc. Info: email autofest@mccc1959.com
Aug 25 - Aug 26

Ribfest and the Gregg Mitchell Memorial Classic Car Show

Guelph

Riverside Park, 709 Woolwich St., south of Woodlawn Rd., 9 a.m. to 3:30 p.m., both Saturday and Sunday. Vehicle admission: $10. Hosted by: Rotary Club of Guelph-Trillium
Aug 25

18th Annual Show and Shine Blenheim

Blenheim

Westside Performance Plus, 314 Chatham St. N., 10 a.m. to 2 p.m. Hosted by: Westside Performance Plus. Info: 519-676-8332, email: info@westsideperformanceplus.com
Aug 25

OBLIVION 80s & 90s Car and Culture Show

Milton

Milton Memorial Arena, 77 Thompson Rd S, 12pm-5pm. Car and Culture show with 80s & 90s collectibles, music, food and cars. Open to cars 1980-1999 only. Spectator admission: $10 Vehicle Admission $25. All cars must pre-register at oblivionshow.ca, or email oblivioncarshow@gmail.com for details. Sponsored by Wells Auto DeLorean Sales and Restoration
Aug 26

4th Annual Acton Legion Show and Shine

Acton

15 Wright Ave., 1 p.m. to 4 p.m. (BBQ from 12:30 p.m.). Vehicle admission: free - donation to the Acton Food Share would be appreciated. Hosted by: Royal Canadian Legion Branch 197. Info: 519-853-8910
Aug 26

Classic Car and Antique Tractor Show

Badjeros

Badjeros Community Centre, 269413 South Line, 12 noon to 4 p.m. Spectator admission: $2. Vehicle admission: $5. Hosted by: Badjeros Community Centre. Info: 519-923-3642, email: tammy_seeley@hotmail.com
Aug 26

16th Annual Car and Truck Show

Palmerston

Heritage Park - Pavilion, Albert St. entrance, 11 a.m. to 4 p.m., registration includes dash plaque and a chance to win a $50 gas card, food booth and music on site. Vehicle admission: $10. Info: Pete, 519-343-2907, or Dwight, 519-343-4154
Aug 26

Country View Car and Truck Show

Reese's Corners

Country View Campground, 4569 London Line, north of Wyoming, 8 a.m. to 4 p.m. Spectator admission: donation to St. Joseph's Hospice. Vehicle admission: $10. Hosted by: Country View Campground. Info: 519-845-3394, or Bob Willshire, 519-336-1413
Aug 26

Deuce/Merc Show

Waterloo

Open to all makes of 1951 vehicles and earlier, rods, customs and stockers, Waterloo Rod and Gun Club, 1075 Bo De Lane, St. Jacobs, 10 a.m. to 3 p.m., super door prizes, guests: Canadian Hot Rod Magazine and Ken Kay, model car contest, food and drinks, three long distance awards, vendors. Vehicle admission: $10. Info: Jerry Kay, 519-513-9274, email: jerrthebear@hotmail.com
Aug 26

11th Annual Show 'n Shine

Markham

Markham Museum, 9350 Markham Rd., rain date September 30, will be posted on our website, 9 a.m. to 3 p.m., dash plaques to first 100 cars, new this year independent judging, expanded categories, automotive inspired trophies, the band 'The 45's' to perform, lucky draw in support of local charities. Spectator admission: free, but donations gratefully accepted at registration table for our local charities. Vehicle admission: $10. Hosted by: Markham Classic Cruisers Car Club. Info: 905-640-7441, email: markhamclassiccruisers@gmail.com
Aug 26

Heritage Days

Uxbridge

Uxbridge-Scott Historical Centre, 7239 Concession 6, 10 a.m. to 5 p.m. Spectator/vehicle admission: free. Hosted by: Uxbridge-Scott Historical Society. Info: 905-852-0758, email: lorraine.ottolini@gmail.com
Aug 26

Doon Cruise In

Kitchener

All makes and models welcome, Waterloo Region Museum, 10 Huron Rd., 9 a.m. to 5 p.m., enjoy a classic car show in Doon Heritage Village, admission includes entry to museum, Doon Heritage Village, and live music. Spectator admission: regular admission to museum. Vehicle admission: cash or food donation to food bank. Hosted by: Cadillac in Southern Ontario. Info: 519-748-1914, email: cadillacinsouthernontario@hotmail.com
Aug 26

Trout Creek All Auto Show

Trout Creek

Trout Creek Community Centre Arena, 181 Main St., 9 a.m. to 1 p.m., judging starts 11 a.m. Spectator admission: donation. Vehicle admission: pre-register by July 15th, $5, after the 15th, $10. Hosted by Dan Castillo. Info: cell 519-358-4938, email: daniel@bickleyford.com
Aug 31 - Sep 3

Steam-Era

Milton

Country Heritage Park, 8560 Tremaine Rd., 9 a.m. to 5 p.m. Spectator admission: $12.50. Vehicle admission: free if an exhibit (made before 1970). Hosted by: Ontario Steam and Antiques Preservers Association. Info: 905-330-8072, email: altor073@gmail.com

Date
September Events
City
Details
Sep 1

Main Street Car Show

Ailsa Craig

Main St., 9 a.m. to 6 p.m., proceeds to Ailsa Craig Food Bank. Spectator admission: free. Vehicle admission: $5. Hosted by Ailsa Craig Food Bank. Info: 519-317-1928, email: 51pickup@execulink.com
Sep 1

11th Annual Summer's End Cruise In

Hagersville

Hagersville Park, corner Alma and Church Streets, 11 a.m. to 4 p.m., live stage, splash pad, beer garden, BBQ and corn, crafters, inflatables, dash plaques. Spectator/vehicle admission: donation to Lions Club. Hosted by: Hagersville Lions Club. Info: 519-484-9904
Sep 1

29th Annual Kirkfield Festival Car, Truck and Tractor Show

Kirkfield

Kirkfield Lions Complex, 973 Portage Rd. (Kawartha Lakes Rd. 48), 9 a.m. to 3 p.m. Spectator admission: free. Vehicle admission: pre-registration $5 by Aug. 20, $10 after Aug. 20. Hosted by: Kirkfield and District Hitorical Society. Info: 705-439-2186, email: kirkfieldcarshow@gmail.com
Sep 2

Kingsville Flea Market & Festival of Cars

Kingsville

Canadian Transportation Museum And Heritage Village, 6155 Arner Townline, 8 a.m. to 1 p.m. Show cars' registration opens at 7 a.m., $10 each show car. Awards at 12:30 p.m. Automotive vending gates open at 7 a.m., vending is free. Admission $5 adults, 12 and under free. Refreshments available in our boarding house 8 a.m. to 1 p.m. Breakfast and lunch available in the 50's diner, 8 a.m. to 2 p.m. Info: 519-776-6909, email: info@ctmhv.com
Sep 3

Douro Doings Car and Truck Show

Douro

Douro Park, 2nd Line of Douro Township, two miles east of village, 20 kms. NE of Peterborough, 9 a.m. to 3 p.m. Vehicle admission: $5. Hosted by: Douro Doings. Info: 705-743-2458 or 705-743-6268, email: merganser@cogeco.ca
Sep 6

Barrie Automotive Flea Market

Barrie

Berts Creek Event Grounds, 134 8th Line South. Info: 705-737-2236
Sep 8

Wheels on Wyandotte Car & Motorcycle Show

Windsor

8th Annual Classic Car show in Olde Riverside (Windsor, Ontario). Registration is $10 with all proceeds from registration & Silent Auction going to Windsor Police Services Camp Brombal for Kids. Location: 5300-5900 Wyandotte E. in Windsor. Entrance off St. Louis. Registration starts at 9:00 a.m. to 1:00. Show till 4:00 p.m. Cash prizes for top three cars and top three motorcycles. Adjuicated show. See website for more details.
Sep 8

Legend's Show and Shine

Oshawa

Presented by the Oshawa Senior Citizens, 1661 Harmony Rd. N., 11 a.m. to 3 p.m., food and refreshments, dash plaques first 50 registrants, cars must be 1985 and older. Spectator admission: free. Vehicle admission: $5. Hosted by: Oshawa Senior Citizens Centres. Info: registration Lyndsey Prevost, 905-576-6712 x. 5840, email: lprevost@oshawa.ca
Sep 8

Enbridge Pipelines Inc. United Way Fundraiser Car Show

Sarnia

UWO Research Park, 1086 Modeland Rd. Spectator admission: donation to United Way. Vehicle admission: $10 - pre-registration prize. Enbridge matches dollar for dollar all money raised. Hosted by: Enbridge Pipelines Inc. Info: 519-490-4893, email: matt.miller@enbridge.com
Sep 8

Wings and Wheels Family Fun Day

Tillsonburg

Rain date September 9, Tillsonburg Regional Airport, 244411 Airport Rd., 9 a.m. to 4 p.m. Spectator/vehicle admission: by donation. Hosted by: Canadian Harvard Aircraft Association. Info: 519-320-1854 or 519-539-0767, email: info@harvards.com
Sep 8

20th Annual Fast Eddie Motorfest

Stouffville

Rain date Sept. 16, Teva Grounds, 7 a.m. to 4 p.m., big upgrades for 2018! Classics/muscle cars, tuners, agriculture, plus expanded race section with engine start-ups, lots more, huge vendor section and food corral, legion 50/50 draw. Spectator admission: free. Vehicle admission: $15. Charity event benefitting local charities. Info: Tony, Jamie, or Ed, 905-642-1010, email: tony@fasteddieracewear.com, jamie@fasteddieracewear.com
Sep 8

Fenwick

Fenwick

Centennial Park, 999 Church St., 9 a.m. to 4 p.m. Second annual classic car raffle will be held same day, only 12,000 tickets printed, tickets $12 each. Winner announced at 3 p.m. Must be at least 18 years old and have an Ontario postal code to purchase a ticket. Proceeds of draw go to Foundation of Canada Dog Guides and to Lions community projects. Food, fun, entertainment, something for everyone. Free admission to the general public.
Sep 9

Fall Automotive Swap Meet

Delaware

Delaware Speedway, 1684 Gideon Dr., vendor set-up 6 a.m. to 8 a.m., spectator gates open 8 a.m. Spectator admission: $5. Vendors: $20 day. Car corral: $10 (includes driver). Cruise-In on track: $5 (includes driver). Hosted by: Delaware Speedway. Info: Russ, 519-652-5068, email: russ@delawarespeedway.com, or Ken, 519-691-0398
Sep 9

The All GM Car Show

Hamilton

Hwy. 53 and 20, rain date September 16, 11 a.m. to 3 p.m., all vehicles have to be GM products, 15 years old and older, food, door prizes, 50/50 draw, celebrating 50 years for Queenston on the Mount. Spectator admission: free. Vehicle admission: Toonie. Hosted by: GTO Pontiac of Ontario. Info: 519-647-2090
Sep 9

Tavistock Fall Fair 26th Annual Historic Wheels Show & Shine

Tavistock

Queens Park, 10 a.m. to 3 p.m, door prizes, 50/50 draws throughout the day. Spectator admission: $5. Vehicle admission: free. Hosted by: Tavistock Agricultural Society. Info: 519-655-2203, email: r.oesch@rogers.com
Sep 9

12th Annual Cruisin' for a Cure for Prostate Cancer

Brampton

The car, truck and motorcycle show that saves men's lives, CAA Centre (formerly the Powerade Centre), 7575 Kennedy Rd. S., gates open at 7:30 a.m., show 10 a.m. to 4 p.m. Spectator admission: free confidential PSA blood tests for men 40+. Vehicle admission: $20. Hosted by: Prostate Cancer Canada Network Brampton and The Over 'N' Under Car Club with proceeds to Prostate Cancer Canada's education, awareness and support program. Info: 905-453-3038, email: jfdorsey@yahoo.com
Sep 9

Ingersoll Community Cruise

Ingersoll

Verspeeten Cartage, 274129 Wallace Line, 10 a.m. to 3 p.m., charity BBQ and silent auction, 50/50 draw for Ingersoll Special Olympics. Spectator admission: free. Vehicle admission: donation. Hosted by: Children's Aid Society of Oxford County and Power of Hope Community Organization. Info: Ron, 519-521-7833, email: dtew@casoxford.on.ca
Sep 9

Markham Auto Classics

Markham

Main St., Markham Rd. N. north of Hwy. 7, 10 a.m. to 4 p.m. Spectator admission: free. Vehicle admission: $10, register online. Hosted by: Markham Village BIA. Info: 905-472-2462, email: info@mainstreetmarkham.com
Sep 9

7th Annual Belwood Lake Classic Car Show

Belwood

Belwood Lake Car Club, Ball Diamond, on Smith Street, Village of Belwood, On, Free Admission, donations to local FOOD Bank welcome , 12:00-4:00, Expect 300-400 Cars. Peoples Choice Trophy, Raffles, Prizes and BBQ.
Sep 9

Woodstock Nostalgia Show and Sale

Woodstock

Woodstock Fairgrounds, Auditorium and Mutual/Market Buildings, 875 Nellis St., 10 a.m. to 3 p.m., larger than ever, now expanded to two buildings, over 220 vendor tables, featuring gas station memorabilia, automotive memorabilia, vintage license plates, advertising signs, small antiques, vintage paper, vintage toys, postcards, coins, bottles, records, glass, china and tins, Coke, brewery, railroad, sports, music, movie, television and other vintage collectibles. Info: 519-426-8875 (please call before 8 p.m.), email: toyshow@kwic.com
Sep 14

Little Britain Annual Classic and Vintage Car Whow

Little Britain

Rain date September 15, 1022 Little Britain Rd., 3 p.m. to dusk, BBQ, music, draws and prizes. Spectator admission: donation to local Food Bank. Hosted by: Little Britain United Church. Info: 705-786-1321
Sep 14 - Sep 16

Grand Ole Power Days - Classic Cars and Trucks

Florence

Florence Community Centre, 8 a.m. to 5 p.m., Friday night dance - live band, rough camping available - free. Saturday sanctioned tractor pull, Sunday chicken BBQ, 4:30 p.m. Sunday 'run what you brung' tractor pull demonstration. Spectator admission: $5. Vehicle admission: $10. Hosted by: Sydenham Antique Club. Info: 519-350-1665, email: mwillson4500@gmail.com
Sep 15

Cars and Coffee at Cobble Beach

Kemble

Cobble Beach Golf Resort Community, 221 McLeese Dr., 10 a.m. to 2 p.m. Spectator admission: free. Vehicle admission: $15 donation to the Owen Sound Regional Hospital Foundation, all vehicles must be pre-registered. Hosted by Cobble Beach Golf Resort Community. Info: 416-366-4802 ext. 228, email: concours@cobblebeach.com
Sep 15

Bruce Redman Antique Car Show

Arkona

Rock Glen Conservation Area, 8680 Rock Glen Rd., 9 a.m. to 3 p.m. Spectator admission: free. Vehicle admission: $5. Hosted by: The Arkona Lions and Lionesses. Info: Stan, 519-828-3261
Sep 15

Beaverton Fall Fair Car Show

Beaverton

Take a fall cruise and join us at our Annual Beaverton Fall Fair Car Show! Show starts at 10am at the Fairgrounds. Driver and passengers pay admission but there is no registration fee to enter the show. First 100 cars receive a goody bag & dash plaque. Class winners receive a plaque and there will be a 50/50 draw. Hope to see you there!
Sep 15

Caygeon Cruisers Car and Classic Boat Show

Bobcaygeon

Beach Park, Park Rd., 9 a.m. to 4 p.m. Spectator admission: by donation. Vehicle admission: free admission, cash and/or non-perishable donations accepted for the local food bank. Hosted by Caygeon Cruisers. Info: 705-731-2137, email: m.hand@rogers.com
Sep 15

23rd Annual Cruisefest

Bobcaygeon

Rain date Sept. 16, Bobcaygeon Fairgrounds, Mansfield St., 9 a.m. to 3 p.m. Spectator admission: by donation. Vehicle admission: $10. Hosted by Bobcaygeon Chamber. Info: 705-738-2202, 1-800-318-6173
Sep 15

Cars & Coffee at Cobble Beach

Owen Sound

Cars & Coffee at Cobble Beach will take place Saturday morning from 10:00 am to 3:00 pm. This allows individuals with vehicles 25 years and older that are vintage, exotic, and collectible to take part in this extraordinary automotive weekend. This is unlike Sunday`s Concours which is limited to a select group of vehicles with unique historical significance.
Sep 16

Cobble Beach Concours d'Elegance

Kemble

Cobble Beach Golf Resort Community, 221 McLeese Dr., 9 a.m. to 4:30 p.m. Spectator admission: adult $35 +HST (price increase Sept. 1). Hosted by Cobble Beach Golf Resort Community. Info: 416-366-4802 ext. 228, email: concours@cobblebeach.com
Sep 16

31st Annual Show and Shine

Delhi

Quance Mill, Hwy. 3 , 8 a.m. to 4 p.m., dash plaques first 200 and trophies. Spectator admission: donation. Vehicle admission: $10. Hosted by: Dead End Street Rodders. Info: Ken, 519-582-2007, or Jim, 519-582-1243, email: jticknersales@hotmail.com
Sep 16

End of Season Poker Run

Oshawa

All makes and models welcome, Fraser Chrysler, 815 King St. W. Vehicle admission: $20. Hosted by: Fraser Automotive Family. Info: renee@fraserautogroup.ca
Sep 16

Fall Fair Show and Shine

Port Hope

Fairgrounds, McCaul St. entrance, 9 a.m. to 3 p.m. Vehicle admission: $5. Hosted by Fall Fair Committee. Info: 905-885-7615
Sep 16

HIghway 11 Cruisers Car Club Season Finale

Richmond Hill

In support of Big Brothers, Big Sisters of York. Gormley Go Station, 1650 Stouffville Rd., Stouffville Sideroad one light west of the 404, 11 a.m. to 4 p.m. Spectator (parking): $10 donation to Big Brothers, Big Sisters of York. Vehicle admission: $10 minimum donation. Hosted by: Highway 11 Cruisers C.C. Email for info: highway11cruisers@gmail.com
Sep 16

Brantford Kinsmen Club's 45th Annual Car Show & Swap Meet

Paris

Paris Fairgrounds, 139 Silver St., gates open 8 a.m., presentation at 2:30 p.m. Spectator admission: $5. Vehicle admission: $5 car and driver. Hosted by: The Kinsmen Club of Brantford. Info: Joshua, 519-865-6393, email: info@brantfordkinsmen.ca, or joshuawall85@gmail.com
Sep 16

Durham Region All Ford Show

Whitby

Open to all years of Mustangs plus 1998 and older Ford/Mercury cars, trucks, and street rods, Butchie's Restaurant, 939 Dundas St. W., 9 a.m. to 2:30 p.m., all pre-registered vehicles guaranteed a spot by 10 a.m. and qualify for amazing prizes. Vehicle admission: pre-registration before Sept. 1, $15, register after Sept. 2 or at the door, $20. All proceeds to local charities. Hosted by: Durham Region Classic Mustang Club. Sponsored by: Marigold Ford Lincoln. Info: Paul Hord, 416-402-4923. To register and pay online or download a form to mail a cheque, please visit our webiste
Sep 16

British Car Day

Oakville

Bronte Creek Provincial Park, about 20 miles west of downtown Toronto, located at the Burloak Drive exit off Queen Elizabeth Way. The south entrance is for non-British cars & spectators, the north entrance is reserved for British car exhibitors and vendors. Over 60 British-related vendors offer their new and used goods for sale, including car parts, complete cars, t-shirts, hats, tools, books, supplies, etc. Spectator admission: free. Vehicle admission: $20. Many vendors offer end-of-season specials, so there are lots of bargains to be had and great food is available from the many food vendors on site. Show cars gain access to the park via the north maintenance/service entrance, at the bend where Burloak Drive becomes Upper Middle Road, from 8:00 a.m. onwards. The spectator gates open at 9:00 a.m. and Participant's Choice & Best of Show judging begins in earnest. The judging wraps up at 1:00 p.m. and the awards ceremony begins at 2:00 p.m.
Sep 22

Gravenhurst Discovery Centre

Gravenhurst

275 Steamship Bay Rd., 9 a.m. to 3 p.m. Vehicle admission: donation to Discovery Centre. Hosted by: Cottage Country Cruisers. Info: 705-687-8938, email: jimhibben@gmail.com
Sep 22

10th Annual Ford

Thamesford

Rain date Sept. 29, Optimist Park, 194 George St., BBQ, door prizes, music by Rock and Roll Frankie Grecco, all proceeds to local charities, catch us on facebook at Galaxie Club Ontario. Hosted by: Galaxie Club. Info: 519-285-8263, email: galaxieclubontario@gmail.com
Sep 22 - Sep 23

The Harold Watson Memorial Car Show and Swap Meet

Rockton

Rockton World Fairgrounds (15 minutes outside of Waterdown), 7 a.m. Saturday and Sunday, vendors 11 a.m. on September 21, entrance is at the back. Spectator admission: $6. Vehicle admission: $5 with a passenger. Vendors: 25' x 30' - $45 for two days, or $25 for 1 day. Info: Ken Brunton, 905-689-4878
Sep 23

Stratford Fall Fair Show and Shine

Stratford

Celebrating antique, vintage and historical cars, trucks and tractors, Stratford Rotary Coplex, 353 McCarthy Rd., 11 a.m. to 2 p.m. Spectator/vehicle admission: free. Hosted by: Stratford and District Agricultural Society. Info: 519-271-5130, email: alicia@stratfordfairgrounds.com
Sep 23

16th Annual Lions Car Show and 161st Thorndale Fair

Thorndale

Thorndale Fairgrounds, 10 a.m. to 3 p.m. Spectator admission: $7 (includes fair and car show), $8 after 1 p.m., elementary school kids $4, under 5 free. Hosted by: Thorndale Lions Club. Info: 519-461-1580, www.thorndalefair.com
Sep 23

Big Car Show

Woodstock

15TH ANNUAL BIG CAR SHOW IN SUPPORT OF BIG BROTHERS BIG SISTERS OF WOODSTOCK & DISTRICT Shine up those fenders, polish that leather and bring your motorized baby out to Canadian Tire for Woodstock's BIGgest Car Show! From classics, to modified beauties, to brand new and the strange and unusual, there is something for everyone! Bring the family and check out the amazing show, meet local firefighters and Woodstock Police. Join us September 23, 2018. $10 Registration for vehicles – first 100 vehicles get a grab bag and dash plaque! Draw prizes for vehicle owners, awards for Owner's Choice an Little's Choice, Engine Blow Up, charity BBQ and more! We all know what rain means to these car owners, so we are prepared – Raindate September 30th, 2018 Don't miss it!
Sep 23

Hagerty Family Car Fest

Stayner

Edenvale Aerodrome, 5195 ON-26, 10 a.m. to 3 p.m. Spectator admission: donation. Vehicle admission: $10 or VIP $30. Hosted by Hagerty. Info: 416-346-2353, email: acount@hagerty.com
Sep 30

7th Classic and Iconic Car, Toy Drive

Milton

Open to all classic and iconic cars, motorcycles, and scooters, Country Heritage Park, 8560 Tremaine Rd., 9 a.m. to 3 p.m. Vehicle admission: donation of unwrapped toy/gift or cash donation. Email: philandwendymiller@gmail.com
Sep 30

38th Last Chance Car Show and Swap Meet

Welland

Niagara Regional Exhibition Grounds, 1100 Niagara St. N., 8 a.m. to 4 p.m., supporting 'Tender Wishes', 1,700 + cars last year, dash plaques for the first 1,000 cars. Spectator admission: $5, children under 12 free. Vehicle admission: show cars, gate pens 7 a.m., pre-register before Sept. 16 for $10, $15 day of show (includes driver and one passenger). Vendors: gate opens 7 a.m., $15 per space (20' x 10'). Info: Tom, 905-894-3139, email: lastchancecarshow@yahoo.ca
Sep 30

Kitchener Collectibles Expo

Kitchener

Bingemans Conference Centre (Marshall Hall), 425 Bingemans Centre Dr., 10 a.m. to 3 p.m., over 170 vendor tables featuring top vendors from across Ontario selling automotive and gas station memorabilia, vintage license plates, vintage toys, small antiques, advertising signs, vintage paper, vintage jewellery, old and new diecast toys, vinyl records, CDs, DVDs, music memorabilia, movie and television memorabilia, sports and non-sport cards, comics, coins, action figures, and too many other vintage and pop culture collectibles to list them all. Info: 519-426-8875 (please call before 8 p.m.), email: toyshow@kwic.com

Date
November Events
City
Details
Nov 3

Kingsville Indoor Automotive Flea Market

Kingsville

Canadian Transportation Museum, 6155 Arner Townline. Buy, sell, and trade. Come in and find the car part you need. All car related vendors welcome. Adults $5, children under 12 free. '50s diner serving breakfast buffet until 11:30 a.m., select menu until 2 p.m. Info: 519-776-6909, email: info@ctmhv.com