Status:
For Sale
Year:
1954
Make:
Mercedes-Benz
Model:
220S
Price :
$70000
---
Location:
Toronto, ON, Canada
Class:
Classic
Body Style:
Sedan
Engine:
4 cyl.
Transmission:
4-speed
Drivetrain:
RWD
Mileage:
88,161 miles
---
Upholstery:
Vinyl
Doors:
Four
Exterior Colour:
Green
Interior Colour:
Brown
Exterior Condition:
Excellent
Interior Condition:
Excellent
Mechanical Condition:
Excellent
Chassis Condition:
Excellent
Trunk Condition:
Excellent
---
Printable Version
FOR SALE: 1954 Mercedes-Benz 220S
You are looking at what is probably the world's greatest example of this remarkable vehicle.
This is a car with a full documented ownership and restoration history since new. The mileage on the odometer is documented original. The current owner of the car has been fanatical in ensuring that it is pristine in appearance and mechanical road worthiness.
The car is originally from California where it was restored, since arriving in Toronto 3 years ago it has been further refined to make it absolutely original in appearance and mechanical functioning condition. Recent mechanical work has included all new shock absorbers, a balanced drift shaft, alignment, overhaul of the rear axle and a new wind-shield. This recent work was carried out by RM Auto Restorations in Blenheim, ON.
No expense has been spared to create a world class example. All this automotive history wrapped up in one Pristine package for only $70,000.00US
All offers are gratefully received. We always make every effort to negotiate a good deal.
Contact: Maurice Bramhall
Local: 416-822-0098 — Toll Free: 1-800-265-4187
Email: [email protected]

Don't miss out! To stay informed on classic cars just like this one, sign up for our email list.
---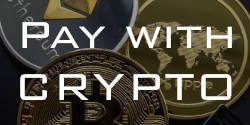 Talk to us about making your purchase securely with cryptocurrency.