Status:
Sold
Year:
1964
Make:
Mercury
Model:
Marauder
Price :
$31,950
---
Location:
Cornwall, ON Canada
Class:
Classic
Body Style:
Hard Top
Engine:
V8
Transmission:
Automatic
Drivetrain:
RWD
Mileage:
34456
---
Upholstery:
Vinyl
Doors:
2
Exterior Colour:
Silver Blue
Interior Colour:
White/Red
Exterior Condition:
Excellent
Interior Condition:
Excellent
Mechanical Condition:
Excellent
Chassis Condition:
Excellent
Trunk Condition:
Excellent
---
Printable Version
FOR SALE: a 1964 Mercury Montclair Marauder 
This car was owned for many years and was the very well loved and maintained car of the owner until the day he died. Every facet of the car reflects the care and attention of the restoration and its preservation (see full details below). The seat trim is original, the carpeting both in the passenger compartment and in the trunk replicates the factory original material. The fascia crash pad is crack free, all the gauges are in beautiful cosmetic and working condition. The car is equipped with the factory original push button AM radio. The body shell and the floor pan have been beautifully preserved. The paint finish is a recent repaint. Both front and rear bumpers have been re-chromed, the grill has been polished to look "as new". All the lamp lenses and fittings are in excellent condition. Under the hood is the factory original 390 cu.in. 4 barrel engine, completely rebuilt, along with a Holly 750 4 barrel carburetor. The wheels are by American Racing and are in excellent, bright, damage free condition. The tires are BF Goodrich in low wear condition. This car is in turn-key condition, you have to do absolutely nothing to enjoy the summer season. "Show or go" for only $31,950.00 CDN., or $23,500.00 U.S.
Engine:
-390 4-barrel (Rebuilt)
-Holly 750 4 barrel
-3 speed automatic transmission
-Power steering
Exhaust:
-Duals
Interior:
-Original seats in excellent condition
-New carpet as factory (including trunk)
-Original gauges (all working)
-Original AM radio
Exterior:
-Re-chromed front bumper
-Re-chromed rear bumper
-Grill polished as new
-Lights &  lenses all  as new
Wheels & Tires:
-American Racing Wheels (excellent condition)
-215/75/15 B.F Goodrich
Extras:
-New rad,  new gas tank
-Every part on the mechanics of this car have been rebuilt or replaced with new
-Professional body paint and chrome (as original)
-Painted black rust free floor and frame
To see many more photos, please send us your email address and we will link you to a Dropbox folder or do a WeTransfer.
All offers are gratefully received. We always make every effort to negotiate a good deal.
Contact: Maurice Bramhall
Local: 416-822-0098
Email: [email protected]
Don't miss out! To stay informed on cars just like this one, sign up for our email list.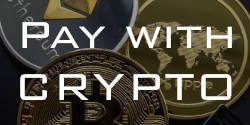 Talk to us about making your purchase securely with cryptocurrency.