Status:
For Sale
Year:
1972
Make:
Rolls-Royce
Model:
Silver Shadow
Price :
$
---
Location:
299 Garden Ave., Toronto, ON
Class:
Classic
Body Style:
Limousine
Engine:
V8
Transmission:
Automatic
Drivetrain:
RWD
Mileage:
---
Upholstery:
Leather
Doors:
4
Exterior Colour:
Antelope & Burgundy
Interior Colour:
Tan
Exterior Condition:
Excellent
Interior Condition:
Excellent
Mechanical Condition:
Average
Chassis Condition:
Excellent
Trunk Condition:
Excellent
---
Printable Version
FOR SALE: a 1972 Rolls-Royce Silver Shadow LWB limousine with divider
This is your opportunity to buy a rare edition of the Silver Shadow Marque. This car is ideal for the wedding limousine service industry or for the enthusiast who wants that little something special in their classic which comes with a built-in chauffeur driven capacity. This car has been sitting in perfect, heated storage for a number of years so it will require some TLC. The body is perfect in an unusual combination of tan Everflex roof, and a 2-tone Antelope and Burgundy body. The Spirit of Ecstasy mascot has been dipped in gold. The interior is tan, the wood remains in excellent condition. The divider is equipped with a stereo system for the rear passengers. This is a very rare opportunity to own a formal classic for an unbelievable price. It's an ultra rare Rolls-Royce factory built limousine.
All offers are gratefully received. We always make every effort to negotiate a good deal.
Contact: Maurice Bramhall
Phone: 416-822-0098
Email: [email protected]
Don't miss out! To stay informed on classic cars just like this one, sign up for our email list.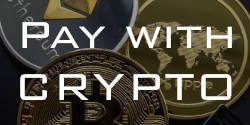 Talk to us about making your purchase securely with cryptocurrency.