Status:
Sold
Year:
1965
Make:
Jaguar
Model:
E Type Roadster
Price :
$165000
---
Location:
Toronto, ON, Canada
Class:
Classic
Body Style:
Convertible
Engine:
6 cyl.
Transmission:
4-speed
Drivetrain:
RWD
Mileage:
54000
---
Upholstery:
Leather
Doors:
2
Exterior Colour:
Blue
Interior Colour:
Blue
Exterior Condition:
Very Good
Interior Condition:
Very Good
Mechanical Condition:
Very Good
Chassis Condition:
Very Good
Trunk Condition:
Very Good
---
Printable Version
FOR SALE: 1965 Jaguar E Type Roadster
54,000 miles on odometer. Bought new in 1965 by BMC mechanic, and sold from his estate in 1985 with 18,000 miles to present owner. Stripped and repainted in the late 80's with as close to the original as they could get at that time (light blue metallic). Seats recovered with proper leather, new top installed. Serviced at Cheshire Motors. Larger front callipers (original included). Electronic ignition (original distributor included). Gas tank redone. Six wire wheels (original spare included). Very clean unadulterated body, never corroded. The owner has spent 40 plus years in the automotive industry and has owned a large number of collector cars and understands the importance of preservation as opposed to restoration. Drive this car anywhere, you will not be disappointed. A rare find. All this for only $165,000 U.S.
Contact: Maurice Bramhall
Local: 416-822-0098 — Toll Free: 1-800-265-4187
Email: [email protected]
Don't miss out! To stay informed on cars just like this one, sign up for our email list.
---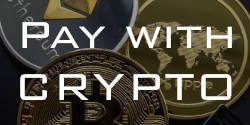 Talk to us about making your purchase securely with cryptocurrency.