Status:
Sold
Year:
1966
Make:
Jaguar
Model:
E Type
Price :
$67,500
---
Location:
Toronto, ON, Canada
Class:
Classic
Body Style:
Coupe
Engine:
6Cyl.
Transmission:
4-speed
Drivetrain:
RWD
Mileage:
2941
---
Upholstery:
Leather
Doors:
2
Exterior Colour:
White
Interior Colour:
Burgundy
Exterior Condition:
Good
Interior Condition:
Very Good
Mechanical Condition:
Excellent
Chassis Condition:
Very Good
Trunk Condition:
Very Good
---
Printable Version
Sold: 1966 Jaguar E Type FHC. This car was restored in 1990/91 by Lynx in the UK. Lynx were for many years famous for their reproductions of the D Type and C Type cars. Their whole focus was on Jaguars. They were known for quality at considerable expense. The cost of restoration at that time was 90,000 Pounds.
The engine is fitted with a modified head by Lynx and a triple Weber carburetors. The car has only travelled 2,941 miles since the restoration. The body is in very good overall condition with some minor imperfections mainly due to the age of the paint. The paint is peeling in several areas but the underling metal is excellent. It has always been dry stored which has been great for protecting the integrity of the body.
The interior is in great condition, the seats show next to no wear, which is reasonable considering the mileage travelled. This car is just a Great Driver, ready for a lot of fun. Drive it anywhere. if you want to detail it to perfection, its no great job.
UPDATE January 2013: Have a look at our supplemental listing for this great Jaguar for more photos as well as documentation provided by Lynx Motors International Limited. You can find this listing here.
Contact
Maurice Bramhall
Local: 416-822-0098
Toll Free: 1-800-265-4187
Email: [email protected]
Jaguar Enthusiast?
Take a peek at our list of Jaguar E-types For Sale!
---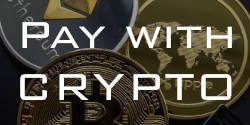 Talk to us about making your purchase securely with cryptocurrency.