Status:
Sold
Year:
1975
Make:
Jensen
Model:
Interceptor Mark III
Price :
$75,000
---
Location:
Class:
Body Style:
Convertible
Engine:
Transmission:
Drivetrain:
Mileage:
---
Upholstery:
Doors:
Exterior Colour:
Interior Colour:
Exterior Condition:
Interior Condition:
Mechanical Condition:
Chassis Condition:
Trunk Condition:
---
Printable Version
SOLD: 1975 Jensen Interceptor Mark III Convertible
This is a properly-restored, very rare Jensen convertible that has been completely sorted and had all the questionable bits replaced. It is not an 100-point car, and was not restored to be. But it is a very, very nice high-point car that would look good in anyone's garage or in front of a stately home – and it drives like a dream.
Full body-on professional restoration, including:
new chrome bumpers and rocker panels
new red finish, hand-rubbed
dead-straight body panels
new factory-made hood from Britain
new hood struts
interior leather restored
new burled walnut veneer
some new carpet as needed
new front wiring loom
new wiring as needed throughout, including power top and rear lights
new top relays and pump
new power window motors
new/refurbished dash rocker switches
new trunk liners/carpet
restored original fire extinguisher and jack
very good top
new weatherstripping
undercarriage stripped of old undercoat and re-coated
wheels hand-stripped, polished and re-painted with high-impact paint
engine and transmission overhauled as needed, new seals, gaskets, hoses, connectors, battery, fans, fan transformers, alternator, etc.
underhood detailed
re-chromed Jensen valve covers
new brakes
newer exhaust and brake lines
owner's manual, shop manuals, advertising materials, etc.
spare black convertible top in the box
Here are the car's deficiencies:
the tonneau cover has shrunk too much to be used. I have a person ready to make and properly fit a new one for $750 but haven't got around to it yet.
the AC needs to be recharged. I haven't been driving the car and so haven't dealt with this yet, either.
there is one small blemish on the newly-rechromed rear bumper, hardly noticeable but there. The chrome shop has gone out of business so I can't pursue them, but most people wouldn't likely see it anyway.
Like most Jensens, the door open retainers don't work well.

Don't miss out! To stay informed on classic cars just like this one, sign up for our email list.
Jensen Interceptor Enthusiast?
Take a peek at our list of Jensen Interceptors For Sale!

---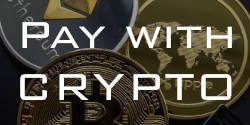 Talk to us about making your purchase securely with cryptocurrency.